Never let them see you Cry. [Kikyou and her mother
Never let them see you Cry. [Kikyou and her mother
Never let them see you Cry. [Kikyou and her mother
by
Nakao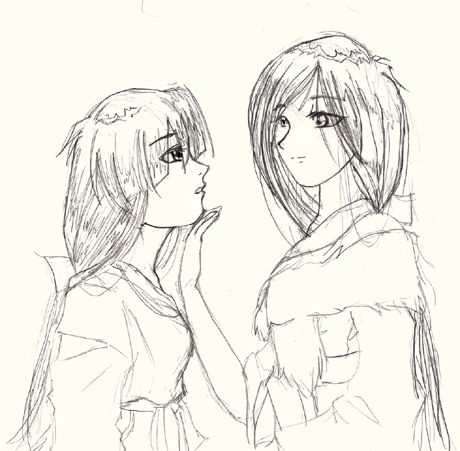 Description
Just an idea that wandered into my brain during Biology class. x.x; I kinda realized that... Seeing Kikyou as a mother figure from the start [A mother figure to Kaede.] kinda puts off the fact that she's only about two or three years older then Kagome herself. De-humanizing? You make the call.<br />
<br />
Anyway, the picture itself is of I guess Kikyou's mother paying her a fond farewell after she becomes initiated into the ranks of the Priestesses. Parting with the words 'Never let them see you cry...' <br />
<br />
Cheesy I know, but hey, five minute sketch gets ten minute thought.
General Info
Comments
8
Media
Unspecified
Time Taken
Reference