Rebith of a god
Rebith of a god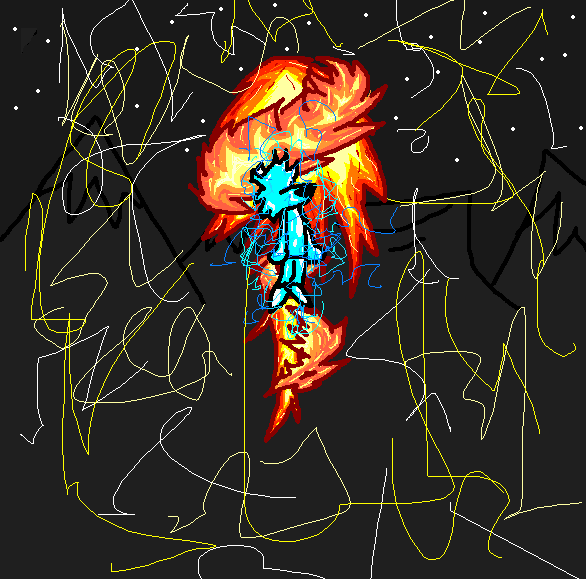 Description
The light was bright. At first, he didn't know what was happening. He thought he was dead. He saw the glowing blue emitting from his fingertips and arcing into the air, saw the whirling fire around him. Jake's head turned slowly to the left.

He saw his brother, lying dead on the ground.

Right.

He saw the leering face of his evil counterpart, ripped to pieces by the sheer force of his last punch. Magus gritted his steel teeth, waiting for the last transformation.

Jake felt immense power coursing through him. He'd not felt this power since he defeated Rage so long ago...

Or had it been a week?
A month?

Jake's eyes returned to him from their rolled back spot in his head, and he blinked. He was on the ground now, cracking it by just touching it. He looked once more at his brother, in a crumpled heap a few yards away.

Magus frowned furiously. Jake roared. A loud crack. Several smaller ones. Magus thudded to the ground. In an instant, it was over. Or was it?

The smashed pieces of Magus that now lay all over the Outback earth were trembling like they'd been spun like a coin. Jake turned just in time to see a huge chunk of metal and faux fur, crushed bones and eyes stab right at him.

Having no time to react, Jake was severed from his arm up, but not even scratched otherwise. The crumpled heap of steel gritted its many shards of teeth and stabbed at the Thylacine again.

Feeling no pain, Jake grabbed directly onto the long, bladelike chunk of tissue and titanium, bleeding all along the sharp edge. he swung his arm back, ripping the long cord out of the machine.

It gave an inhuman roar. This would not be over. It COULD not be over! The hunk of material reformed itself again, losing more and more of it's previous Magus-shape every time. Before Jake knew it, he was missing another arm. But since he felt no pain at all in this form, he just kept attacking.

The huge chunks of amalmous material oozed oil and gushed clear blood and steam from every crack and cranny. It was losing its energy quickly.

Jake laid a final punch on i-

Punch? Hadn't he lost his arms?

Jake laid the final punch on it, and it exploded into shards of glass and metal and flesh and bone and blood and gore. This time, it didn't get up. Didn't move. Didn't even shudder.

Jake slid to his knees, color slowly returning to him, and fell facefirst into the cracked dirt. He'd sleep now.

Yeah.

Just sleep...

only for a little while.....