Layla the Kitty Boo
Layla the Kitty Boo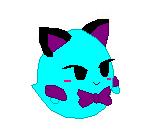 Description
Well, this is a Paper Mario 2 OC. Layla the Kitty boo. I based her off Lahla who works for Don Pianta's game...place.

Layla is Lahla's little sister and she gets a job at the game corner place...thing but her secret passion is writing plays. She is a big fan of Madame Flurrie and dreams of the day Madame Flurrie acts out one of her plays on Broadway with Layla in the front row.

I think she came out cute. Hand drawn then colored on Paint.
General Info
Comments
7
Media
MS Paint
Time Taken
A while
Reference
Lahla in Paper Mario 2