Apple iTV Television Concpet
Apple iTV Television Concpet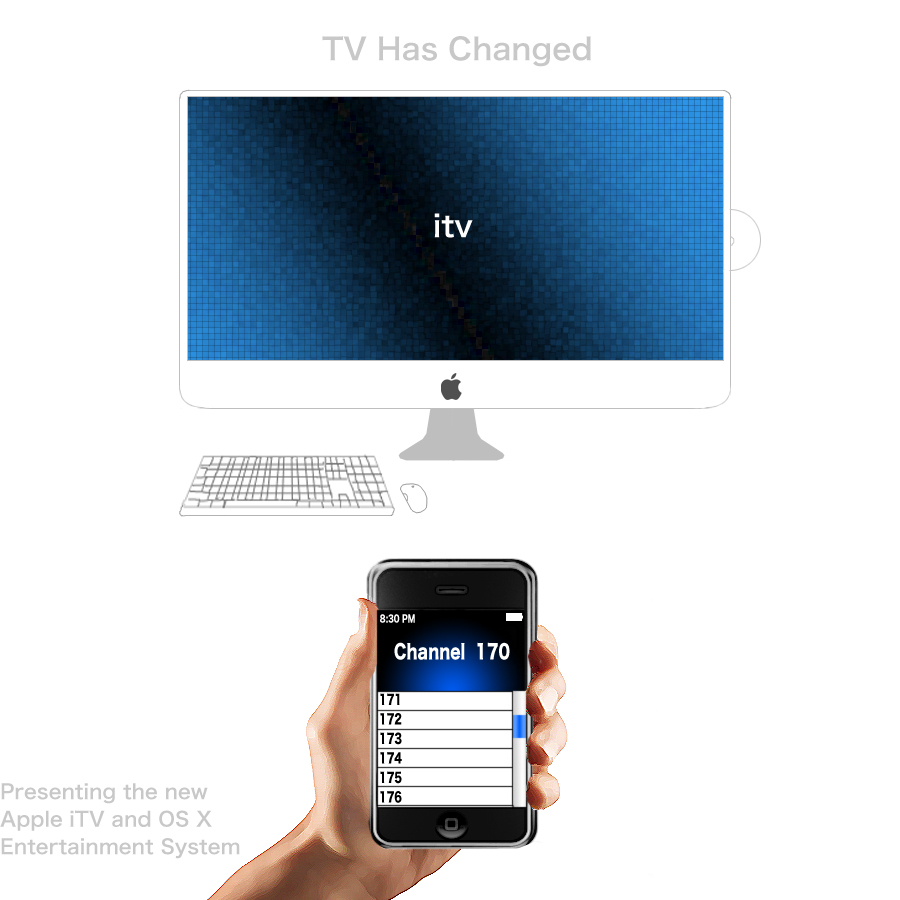 Description
So, Apple decides their iTV system hasn't been selling too well. So here's their new product, the iTV 1080p Television and OS X computer! Yes it is a TV( with iTV service which will now be free ) and an iMac! The TV has amazing quality matching SHARP with this 1080p LCD with 4 HDMI ports, a Composite video/audio input, VGA input, Digital audio output (optical), stereo and surround sound speakers, 4 USB ports, an SD input, and 2 S-Video inputs. Also their is a Blu-Ray/DVD player! And the coolest thing I think is what you use for your remote, either an iPod Nano, iTouch/iPhone, or an Universal remote. For the iPod Nano, you buy an accessory that sends signals to the TV, and the iTouch changes channels wirelessly. Also the software for this is free.
For the computer part, both the keyboard and mouse are wireless. The TV has wireless and etheniet internet access, this is how you get the iTV service and internet browsing. It has the same stuff as an iMac has like amount of RAM or memory.
So when you turn on the TV, you have 5 options to choose from, your TV cable input, iTV service, the DVD player, OS X, or any thing you have plugged in such as a game console.
As for the price... lol. The 40" will be $3200 and the 32" will be $2200.
Hope you like it! Apple logo, iTV, and iPhone owned by Apple inc.