Summoning the Frigid Inferno
Summoning the Frigid Inferno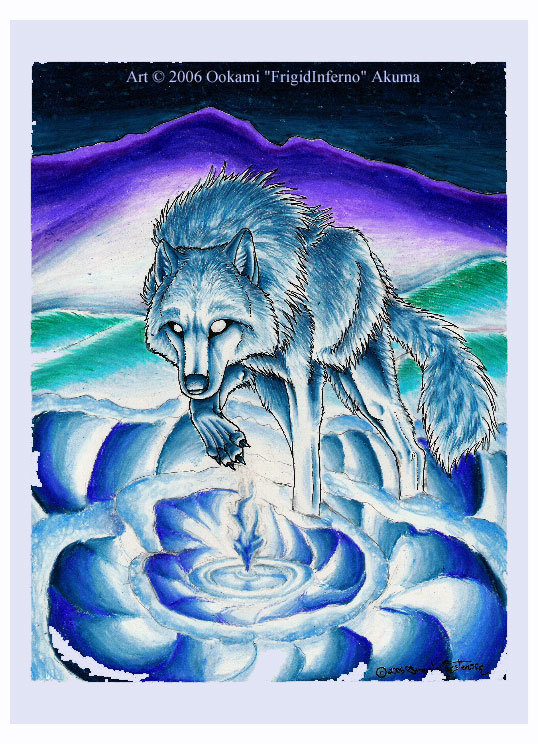 Description
Date of Completion: March 2006
Tools Used: Prismacolor colored pencils, Art Stix, white charcoal, and .005 Sakura micron ink.
Time Taken: 11 hours

~~~~~~~~~~~~

"The creature silently padded into the small pool of crystalline liquid. It's pelt was the color of crushed diamond and its eyes shone like hollow spheres in the velvety night. Its paws dipped into the water one by one without creating so much as a single ripple. With long fur flowing back into the breeze, the creature almost seemed to resemble a phantom. Once it reached the center of the pool, it stopped and stood as still as stone with its ears erect, listening for any approaching adversary. It's elegant face reflected absolutely no emotion whatsoever.


"After several seconds, it dipped its slender maw down to the water's glassy surface and released a nearly undetectable breath. Tiny ripples glided toward the outer edges of the pond. Within less than the blink of an eye, a flash of white sparks lit the water. As tiny azure flame danced, the surrounding water began to twist and swirl as if to join it. Small waves began to ascend from the once flat pool and a silvery haze shone in the cold firelight. The etheral wolf stood over the flame, watching vigilently as it hissed and twirled as if to protect it. Its hollow white orbs shone with what appeared to be pride and awe at the same time.. ."

I'm really bad at writing. X_X

~~~~~~~~~~~~

My entry for a contest over on deviantART. I absolutely love how this came out! I've never done any lighting from underneath of a character before, and it was a bit challenging for me to figure out where all of the shadows 'n stuff would go.


Thank you so much for looking! I hope you all enjoy this as much as I enjoyed creating it! Please leave a comment, thanks!