Kival'Fel
Kival'Fel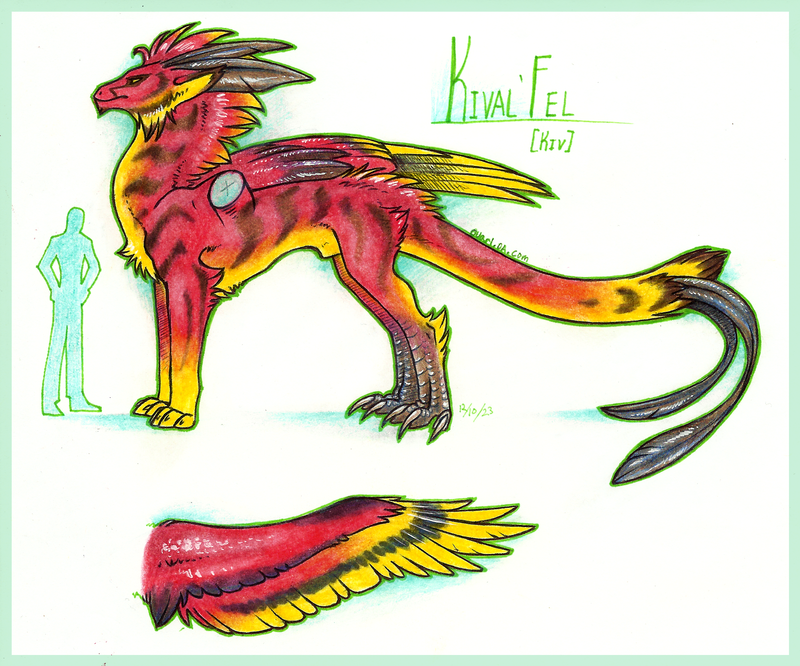 Description
Reposted from my Deviantart, because I'm having a fit of nostalgia. This site was the first art site I ever joined. <3
Yes
It is finally done
A REFERENCE FOR KIVAL!
I have to say, this is probably the first time since his creation that I have ever been satisfied with his design.
It feels good man.
Kival has, and probably will always be a problem child, and just trying to get THIS simple little ref done took a lot of patience on mine and
Raverick
's part. I mean, without her I probably never would have gotten this shoot done. She was the one who gave me the idea to utilize the magical printer to turn a tinny little drawing into something I could actually work with and then proceeded to help me fix proportion errors all over for me. ILU Rave idk what I would do without you LOL :'D
I know the ref isn't very detailed but I felt like mouth and eye shots were unnecessary, and I kinda like the minimal look.
Besides, drawing dragons is fracking difficult. I'm so rusty.
anyway...
A little info about Kival
Planet: Theen
Species: Niirvaun
Age: Young twenty's
Occupation: Prince/priest/guardian
Blurb: Yes. Kival is, in rough terms, a Prince/Priest/Guardian. Of course, being the rebellious young adult he is, you would have a hard time placing him as such. Kival dreads the life that has been planned out for him and yearns to travel, much to his mother and father's displeasure. Kival is arrogant and immature due to his pampered childhood, but there is a sense of wisdom and responsibility under all the seemingly thoughtless and rude remarks he can make. If you can stand his ego, he could turn out to be a fiercely loyal friend worth having around.
------------------
Art, character and species/planet concepts belong to me Ouari
Please be respectful
Don't make me regret sharing
thankyou