PaD: Principal office-finished
PaD: Principal office-finished
PaD: Principal office-finished
by
Panur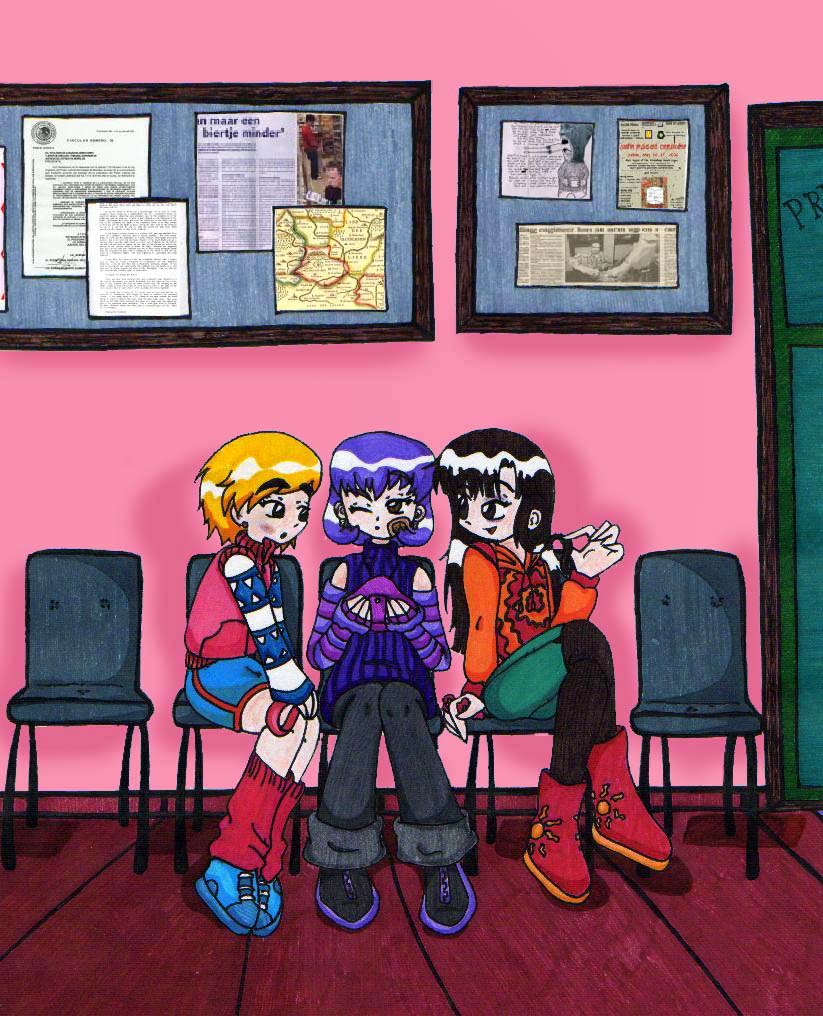 Description
Finished piece, with MY take on how the girls would (in an alternative universe) meet.

"Didn't roughened you up too much, did I, sugar?" Smirked theblack-haired girl sporting the psychedelic hoodie. For a cheerleader,she didn't seem that worried about the bluish mark forming on her lefteye.
"*You* didn't." answered the blonde flatly, looking down at the gamethe girl sitting between them was playing. She wasn't that sure whathad happened. One second she was having a classic name-calling,hair-pulling contest with the black-haired girl over the idiocy of thevast-world of cheerleading in general (and the sub Capitan herself,particularly), the next the antisocial girl with squinted eyes hadpunched them both. Before she had had much chance of extract morerevenge than scratching her cheek, the three of them had been hauled tosee the principal by a hissing old lady with shining glasses that hadliterally materialized out of the shadows.

"Why did you hit us?" she asked to the girl at her left.
"You made me drop my game-slave."
"… so?"
"Be thankful I didn't plunge you into a nightmare world from whichthere is no waking instead." Answered the girl in monotone, pressingthe numerous buttons non-stop.

The blonde wasn't impressed.

"I have been into nightmare worlds. Ruled over them, too. " She lookeddown at the little screen in the device. "What's so important aboutthat game, anyway?"
Amazingly enough, the purple-haired girl paused the game, opening one of her squinted eyes.
"It's not 'Just a game'. It's the Game slave 2."
"So?"
The black-haired girl shook her head. "It's the latest game from'Slave' factory: Vampire Piggy hunter P unlimited: night of the werehogs. Edited version with bonus material and secret screenshots for theupcoming movie."
The violet-clad girl raised an eyebrow.
"My brother." Smiled the other as she continued to comb her long hairwith her fingers. "I make him give me the latest good stuff out there."She winked her good eye at the blonde. "I'm Lalavava, by the way."
"What kind of name is…?" started the purple haired girl before resuming her playing "Wait…never mind, I don't care."
The blonde looked at her "I thought your name was Olga."
"Yeah… Lala is my nickname."
"I'm Mandy." Answered the blonde looking down back at the game's screen.
"… Gaz." Said the girl between them.

Done for Biskuits (check her gallery on DA!)

Finally finished n_n In mixed media because of how much did I tweak itin photoshop. You have NO idea all I had to do.... By example someparts were really crooked, and GOD, did my sister make an amazing workfixing the papers on the wall...
General Info
Comments
0
Media
Other drawing
Time Taken
2 days or so. can't remember
Reference
my heeead.