Sunset Eagle Final
Sunset Eagle Final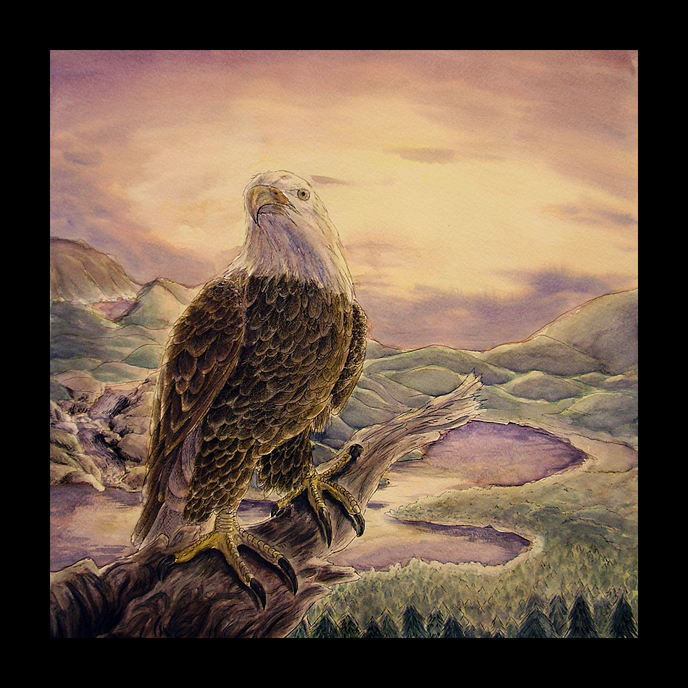 Description
Copy and paste from my DA account:
I didn't have time to complete this by Thursday like I said I would, but I did manage to complete this on Friday, which is today.

Fixed the waterfall a bit with ink, darkened the log, and shaded in the eagle in ink.

I'm quite proud with this, even though there are a few things I could have done better.


FULL STORY for why this picture came to be:
I went to a museum in Maine on my summer vacation and saw a stuffed Eagle there and took a picture of it. Still have the picture to this day in my camera.
Anyways, I decided to 'bring it to life', and place it in the wild. ;p

Here is the photo reference of the Eagle:
[link]

The background was purely made up by me, though someone in my class has said that it reminds her of California.. or was is Chicago? xD

Anyways, enjoy~<3

Drawing by me, BBZola/Pyro-Blitz (Pink_Shimmer for here on FC)
Original size: 16x16 in.
Medias used: Indian Ink, 005 and 30 ink pens, watercolors
Reference: Stated above
Please don't copy,paste, print, edit, or use. Don't steal either. Thank you.