Spyro - Zonda
Spyro - Zonda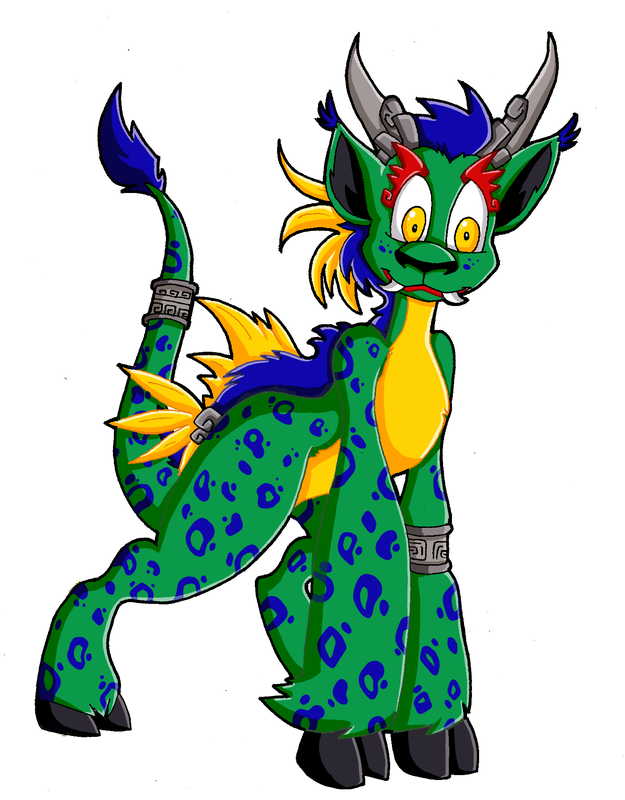 Description
I have a lot of Spyro OCs, and this is one of them. :D

Name: "Zonda" Ocelocoatl ("Zonda" is an Argentinian wind and "Ocelocoatl" is "Snake-Jaguar". It is said to be one of Quetzalcoatl's names)
Nationality: Mexican, lives in Argentina. She isn't a "true dragon", so she doesn't live with them in the Dragon Worlds. :D
Background: She flew to Argentina (In the year 1519. She didn't liked that "conquistadores", you know) by running on the air with her hooves so fast that when she arrived to a little village, their inhabitants thought she was the "incarnation" of the wind.

They were scared by her look at first, but then they understood she wasn't a "demon", but a friendly creature. Many, many hundreds of years passed, and she still looks the same. It's unknown how old she is, and when she will start to physically grow. In our years, she is 13 years old.

She doesn't like when someone points out her Mexican accent. Her favourite food is the burrito (... They're delicious) and spicy stuff.

She loves to play with the "human cubs", as she calls them, of her same Human Age, younger or older, she doesn't care. She often sighs thinking to her past friends, saying: "Los seres humanos tienen una vida tan terriblemente corta..."

Lenght: 1,80 meters.
Height: 1,50 meters.
Attacks: When she needs to defend herself or someone else, she mainly uses to kick the enemy with her hooves. She is perfectly able to walk on two paws, so that she can also punch. She breaths fire.
Lucky Charm: A big sombrero. She often curls herself under it to take a nap.

Zonda Ocelocoatl (c) belongs to me.
Spyro (c) his owners.