Dany Heatley
Dany Heatley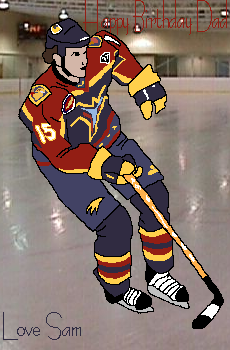 Description
wow i'm making gifts =O i so nice<br />
this one ish for my dad and yeah<br />
my dad plays hockey for an old ppls leauge (ok the oldest is 45 but meh) but my dad loves hockey over all sports. Me too, and i hate sports. one of the few things me and my dad actually have in common X_x<br />
<br />
drawn on comp paper with a reference, scanned then spoinked out. Back ground found off google<br />
(I'm nice, but not to the point whaere i would draw a hocky rink! XD) so yesh<br />
<br />
he better like it!
General Info
Comments
1
Media
Unspecified
Time Taken
Reference