TTGB-TAROT-DEATH
TTGB-TAROT-DEATH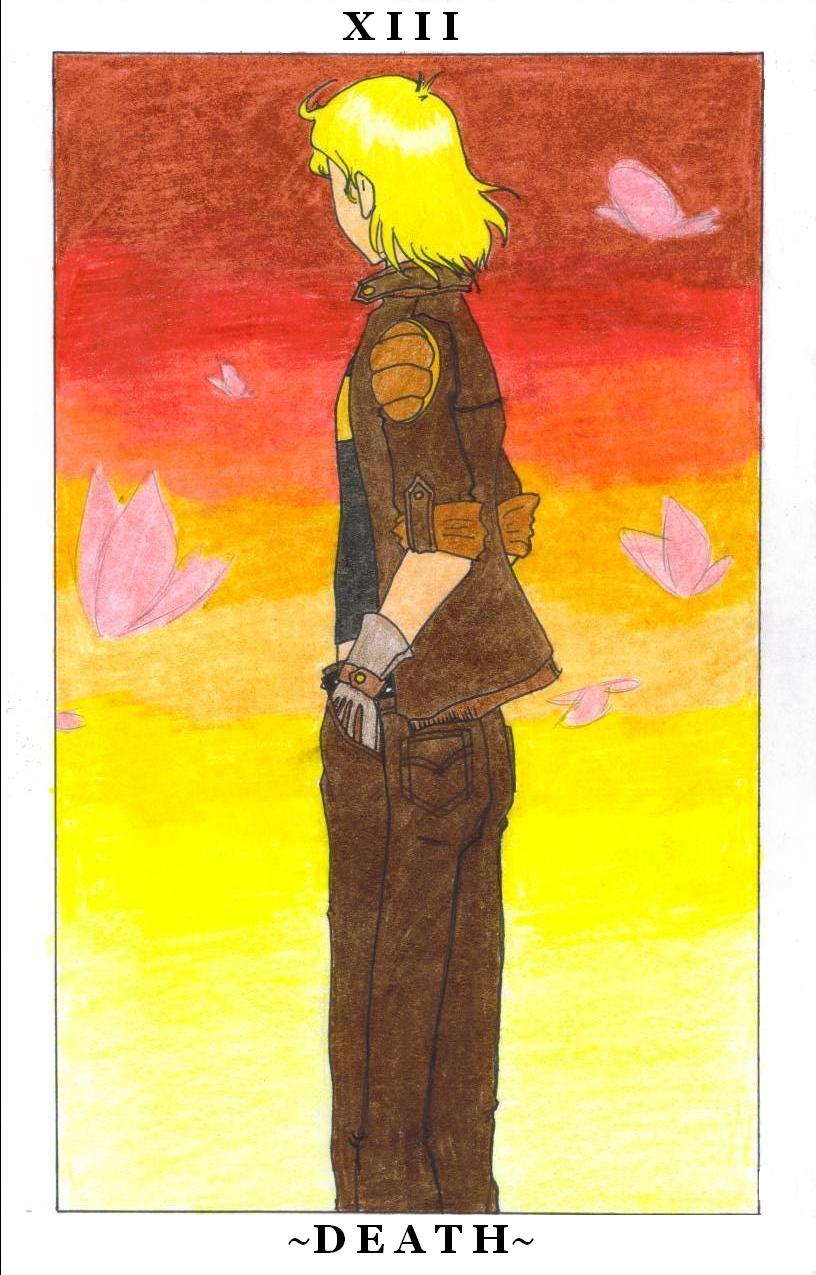 Description
you'rE all goin "OMG,P_C'S BACK!!!"

oNLY ON A TRIAL BASIS

Image: Quartz, facing away as the sun sets in the west

The DEATH, is possibly one of the most misunderstood cards in the major arcana. It rarely means literal, physical death. It truly means "transformation", which is another, more apt name for the card. It is represented by the scorpion, which has 3 forms. It is a transition of stages, shedding of the old, and beginning anew. Quartz (aka male Terra) has gone through the most changes, from a wanderer, to a titan, to a traitor, to a statue, then finally, someone trying to forget the past.

Production:

So, this is the first card I completed, and hopefully, not the last. Death was pretty unremakable in its creation. No major hitches. BUT, The saving grace for this card, the thing that really brought it home, was the SKY. OMG I LOVE IT. its the first time i attempted something like that, and i am impressed, even though the colors seem a bit broken.

OK, so heres how it goes; I'm back if AND ONLY IF, YOU ARTISTS GIVE ME INTELLIGENT AND ELOQUEUNT COMMENTS. I AM TIRED OF GETTING ALL EXCITED OVER A COMMENT NOTICE, JUST TO SEE THE COMMENT IS "LOL" OR "THATS BEAUTIFUL!" OR "OMG CAN YOU PLEEZ DO A RE3QUEST FOR MEEEE!?!? IT'S ANNOYING. COMMENT ON THE ART, WHAT YOU LIKE OR DISLIKE, AND WHAT THE PIECE SAYS TO YOU.
General Info
| | | | |
| --- | --- | --- | --- |
| Ratings | | Comments | 11 |
| Category | Cartoons » Teen Titans | Media | Colored Pencil / Crayon |
| Date Submitted | | Time Taken | 2 days |
| Views | 1661 | Reference | none |
| Favorites... | 2 | Keywords | quartz, death |
| Vote Score | 1 | License | Berne Convention |