.:NMC-Mew:.
.:NMC-Mew:.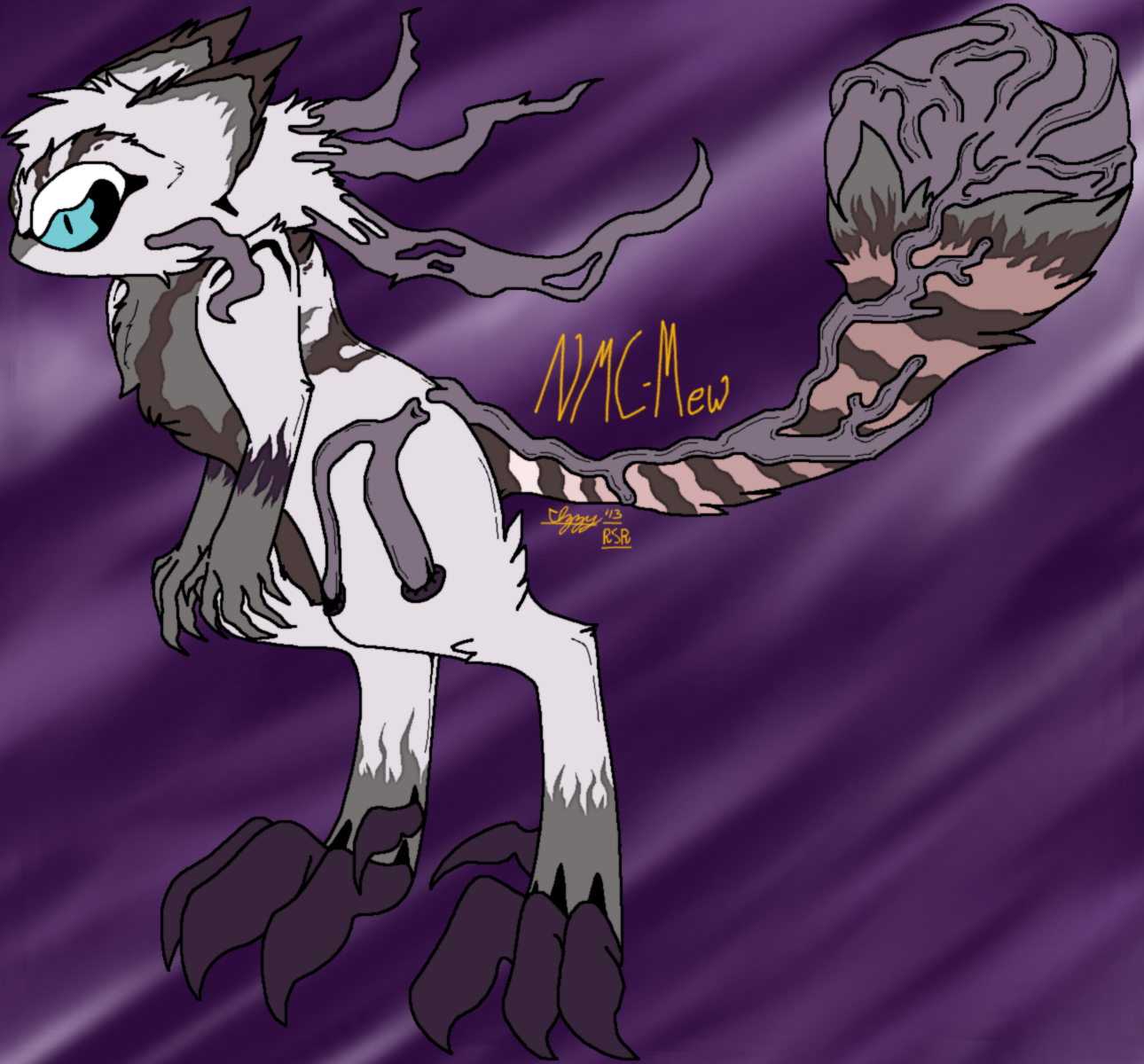 Description
Here is the NMC-Mew! There are no words to express how proud I am of her design. I truly believe I managed to make her look both creepy and cute at the same time. After all, there were NMCs in Parasite Eve that still looked cute even after mutation, such as the Squirrel and Rats. I've listed some information about NMC-Mew below!
--The normal pink coloration of Mew has become dull and lifeless after mutation. The NMC-Mew has gained darker violet colors on her body as a contrast to this saturation.
--In terms of size, NMC-Mew is surprisingly only slightly larger than a normal Mew.
--Despite what the image above implies, NMC-Mew is almost always seen hovering in the air.
--Since Mew is a legendary Pokemon in the original Pokemon games, the NMC-Mew would be considered a 'secret boss' or 'true final boss' if she were encountered in Parasite Eve. Think about how Maya is encountered as the final boss in Parasite Eve's EX-Mode. And much like Maya, only one type of this enemy can be found.
--Due to her rank as the supposed 'ancestor of all natural born Pokemon', NMC-Mew has a gigantic variety of PE-induced attacks at her disposal. Most of her attacks involve psychological damage, but she is also capable of using abilities such as Haste, Energy Shot, and Preraise (meaning that there is a slight chance that, after fighting her, you'd be forced to battle her again).
--The NMC-Mew does not stay in one area. If you search for her, you will be travelling to various in-game locations to keep pace with her. She will flee for the first few encounters, but eventually she will settle in Central Park where Eve was fought on the horse-drawn carriage.
--While more hostile in this form, she is more mischievous than anything and is much more merciful on Aya when fought.
--Even though she focuses mainly on using her more psychic-based powers and PE-induced abilities, NMC-Mew is still capable of swiping at Aya with her thin, sharp claws.
--Many vein like structures are seen extending out of her head, torso, and tail. The veins on her tail lead to a tumor-like structure at the end. This growth is believed to be an area where PE is honed and stored.
This is what Mew actually looks like:
http://cdn.bulbagarden.net/upload/b/b1/151Mew.png
Since I have created NMC-Mew, I plan on posting NMC-Mewtwo next. Keep an eye out for it.