chibiness k
chibiness k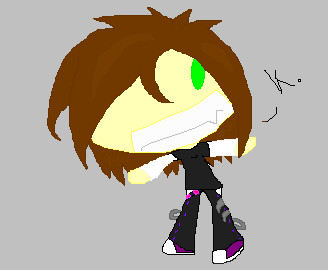 Description
wow i almost forgot about this place ha. i dont make friends here i cant..its to umm lame..anyway as you know i moved to DA along time ago..but acasionally i post art here..way late art..here is one fromm....
July 20, 2007 (WOW.)
orginal DA descrip below.
---
replay to
http://sotairosu.deviantart.com/art/Chibiness-Please-57799000
He looks old : D haa grayness...
wow um this is alittle late...
"Submitted: June 17" thats the day i started this but then i kinda forgot bout it.........haa i really didnt shade or nothing haaa maybe later :d
oh and my hair is only that cool on Wednesdays :B
weeeeeeeeee.
I have a big head :3~
goshhnez i luff me su :]<3333333333
----
Ms Panit
General Info
Comments
1
Media
MS Paint
Time Taken
Reference