Jolly Roger-My Version
Jolly Roger-My Version
Jolly Roger-My Version
by
Reap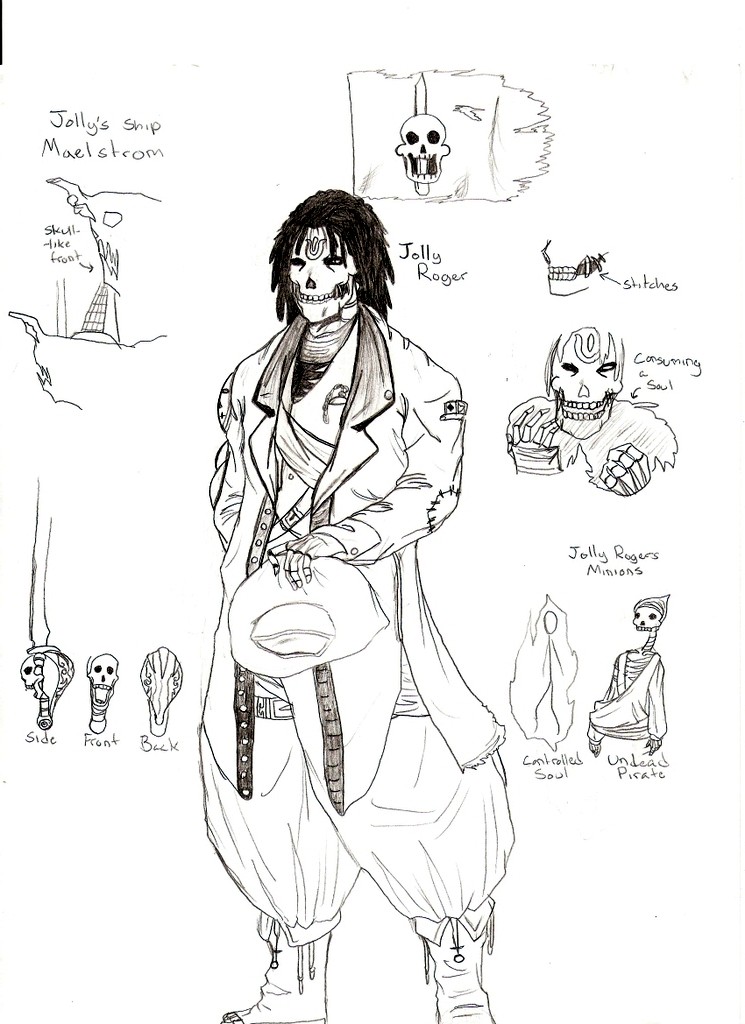 Description
Jolly Roger, from Pirates of the Caribbean Online game
(How he looks
http://images.wikia.com/pirates/images/b/be/Jolly_Roger.jpg
as compared to how I think he should) Everything else around him are just random sketches including his flag (a skull impaled by a stake) his crew, his ship, and his sword
I also made up a background story for him, different from the on already made
(Many of the supposed sources of the jolly roger on the flag was that) he was a British Privateer, famous for the oppression and hunting of many pirates, he continued this until upon returning home he discovered his fiancee's affair with a govener, he immediately killed the man and fled, now being considered a pirate. He from then on lead a life against both pirates and the British, depending on how his mood was. He eventually set his sights on taking on anyone highly revered and well known, even meeting Davy Jones once. But still he was eventually captured and hanged, before dying he called on Calypso to spare his life. The result was this, a man all the same who continued to breath and live but as the years passed his flesh rotted away leaving a shell of a man who need the souls of others to continue his existence. As Calypso was turned mortal he fell into a deep sleep at the bottom of the ocean.
Now that Tia Dalma is now Calypso again, Jolly roger awakened and readied his ship (called Maelstrom) in search of the Pirate who beat Davy Jones
Jolly Roger is also an avid gambler, and takes any bet no matter the cost. He is also able to call upon the undead and restless spirits to serve as his crew. In order to keep living Jolly roger must consume living spirits.
General Info
Comments
3
Media
Graphite pencil
Time Taken
Reference