Kalina-
Kalina-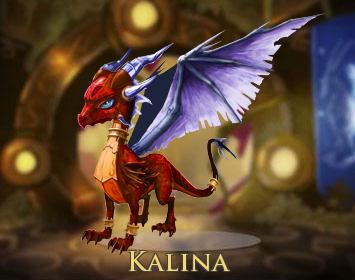 Description
Kalina, my Spyro OC
I made using this:
http://www.darkspyro.net/images/night/lair/?generate
Info on Kalina:
Name: Kalina
Element: fire, ice
Relatives: Aidan(father)(deceased), Crystal(mother)(deceased), Ignitus (uncle), Cyril (grandfather)
Element: fire, ice
Personality: sassy, tough, a bit cocky (she gets that from Cyril), tends to have a temper when provoked sometimes (she gets that from Ignitus), has a sense of humor, adventurous, fun loving
Kalina is the neice of Ignitus, the fire guardian, & the granddaughter of Cyril, the ice guardian, so is able to weild both elements, fire & ice, & is quite skilled with both, having been trained by two guardians. She is best friends with Sara, who is Volteer's daughter & Terrador's neice. Her mother was Cyril's daughter, & her father was Ignitus's younger brother. She is sleek & can be quite skilled at claw to claw combat as well. She is very close with her uncle Ignitus & her grandpa Cyril, seeing as how they are the only family she has, since her parents were killed.(they were killed by the Dark Master's forces before she hatched, she never knew them) She DID NOT like Cynder at all, and they fought a lot, Kalina was jealous because everyone payed attention to Cynder, & she was afraid Cynder would become the object of Spyro's affections. She first was leary of Spyro, not really trusting him, being a stranger, but then, the more her uncle Ignitus trusted him, the more she did, trusting her uncle's judgement. Also, once she realized he was a purple dragon, as the prophecy her uncle told her about had mentioned, she thought maybe Spyro could help them. Gradually, the more she was around Spyro, the two developed a crush on each other, & finally fell in love & became mates. Deep down, she's afraid of losing those close to her, like she did her parents.
Kalina (c) me