Questioning (Hunter & Ripto)
Questioning (Hunter & Ripto)
Questioning (Hunter & Ripto)
by
Rexy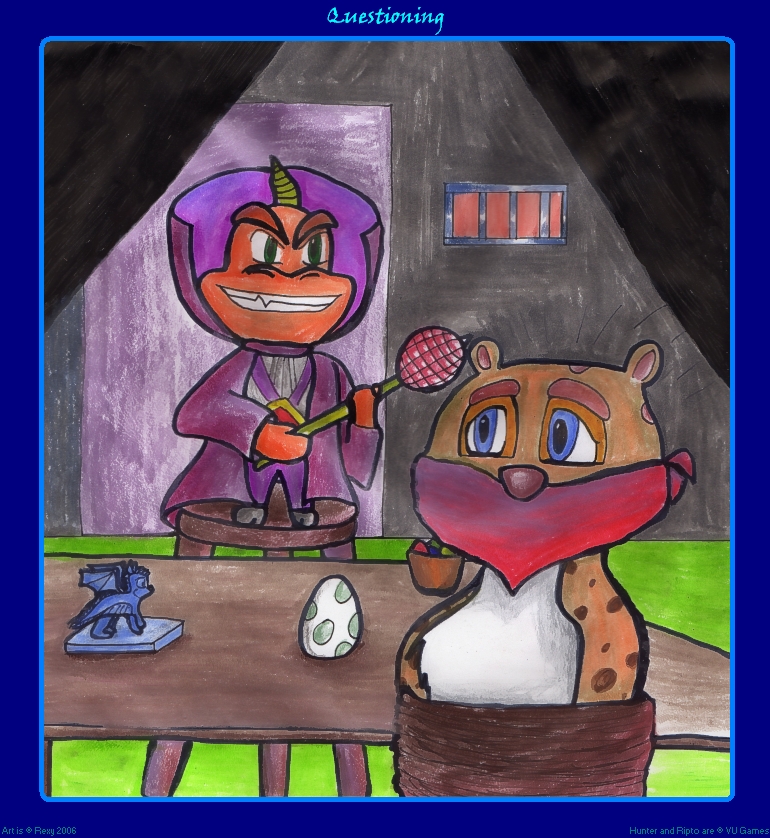 Description
This pic evolved a lot from its first idea. Want me to explain?

I actually wanted to be able to base it around the scene in Spyro: Year of the Dragon where Bianca encounters Hunter locked in his cage, thus showing her full body from underneath that cape she wore. Then I thought it would get boring so I ended up wanting to recreate it as if said characters were placed in a detective movie. However when I got round to trying to draw Bianca, references were then too few and far between to be able to add any details and accurate cloth/body part positions (no thanks to her not having any major appearances since Enter the Dragonfly), so I just went with changing the concept altogether and making a more original scene of an interrogation with Hunter and Ripto.

I felt I did pretty well in the feel of this as well as getting down the details of the characters. As much as I appreciate the series I don't even draw Spyro characters too often, though to see the target characters turn out like this actually surprised me moreso considering I have a few prior problems with Hunter in particular.

Either way I'm still happy with this. I hope things go well, and I will continue to follow the series as it progresses :)

Hunter and Ripto, like all Spyro Characters, belong to the videogame publisher that is Vivendi Universal Games.
General Info
Comments
1
Media
Colored Pencil / Crayon
Time Taken
Still can't remember - 2-3 hours
Reference