Spyro and Sparx - Lazy Summer Days
Spyro and Sparx - Lazy Summer Days
Spyro and Sparx - Lazy Summer Days
by
Rexy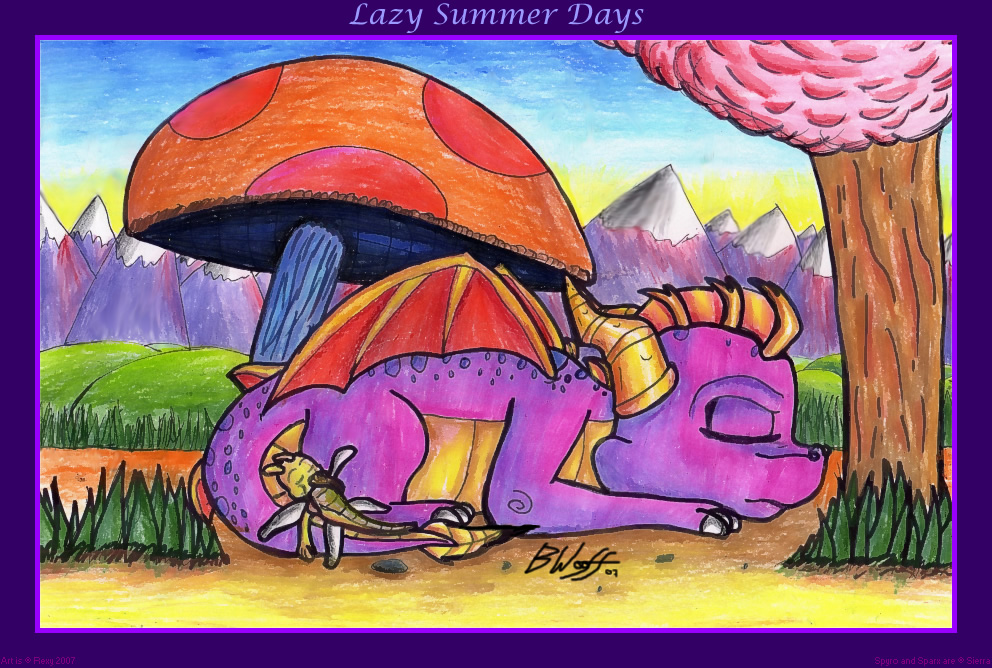 Description
Yes, I am well aware that it shares a name with a song from the Kingdom Hearts II soundtrack. But that song was stuck in my head when I started coloring it in, so there we go. :p

Either way, with most of my drawings packed away for going back to Uni as of last night, any sane time that I had for myself was spent either playing videogames (Okami FTW) or doing a separate drawing aside from the usuals. Once again my mind flickered to Spyro, and so I ended up drawing him and Sparx in what can reflect the coming Summer months. Not even the amount of energy they both had while playing together in their swamp home is limitless, as shown here.

Quadrupeds have never been my speciality, but I think I'm starting to improve my methods in posing techniques having grown used to guiding quadrupeds in videogames in recent times, whether it be Spyro or Amaterasu (lead in Okami) or any other character. I might need to track a mannequin down before I go home to help improve a little more. I did however get some new blendable colors while I was out, leaving me to try and test out whatever shadow techniques I can on certain colored elements here. It's going to take a while to transition from the double-ended crayola shaders I've often used in the past.

It also turns out that two of my kid cousins ended up coming to my house while I was in the process of drawing. And at the end of the day, the youngest of which had copied the Spyro reference that I used on a lined piece of paper very accurately without the need of tracing and will show it to her school mates when she goes back tomorrow.

I hope this goes down okay. Comments are much appreciated :)

Spyro and Sparx belong to Sierra. Nuff said.
General Info
Comments
4
Media
Colored Pencil / Crayon
Time Taken
4 hours
Reference