OMFG FROLICKING
OMFG FROLICKING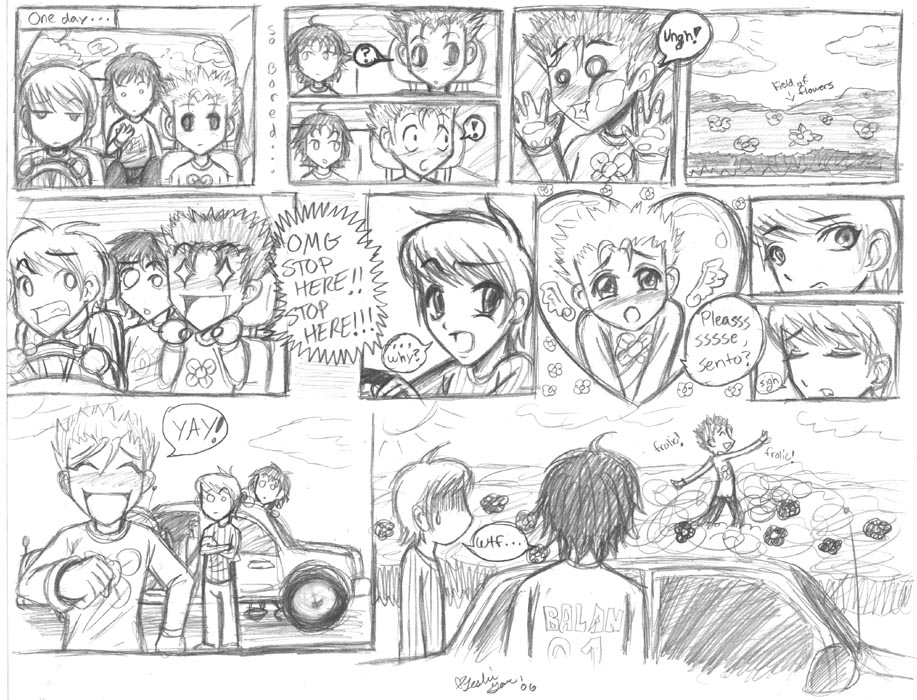 Description
I''m quite angry that I can''t submit this into the BANDS CATAGORY, considering it''s O-ZONE FANART!!!
... Yes. Anyway. >_>
Watashi_no_Chibi_Tenshi and I had the FUNNIEST convo last night. I told her on the phone that I could see Radu, from O-Zone, frolicking through flowers while Arsenie and Dan stood and watched with a "wtf" look on their face. XDD And then she came up with the short story of how it got to that point. *laughs*
Radu: NO, STOP HERE! STOP HERE! *at a huge field of flowers*
Arsenie: *driving* Why?
Radu: NO, please, please Sento!
Arsenie: *stops*
Radu: *goes out and frollics* YAY!
Arsy and Dan: ... wtf.
But doesn''t Radu just LOOK like someone who would frolic in flowers?? O_o
http://i12.photobucket.com/albums/a227/Rikusgurl/O-Zone%20Slashies/5e3163e4.jpg
Just look at him! *points to the very enthusiastic looking one in orange* And we''ve also came to a conclusion about what each of the O-Zone boys actually ARE:
Radu = Ultimate Uke
Arsenie = Sexy Alternation in teh Middle (I love how he''s teh seme to Radu, but teh uke to Dan. XDD)
Dan = dogy Seme
buahaha. Okay I''m done fangirling. *leaves*
General Info
Comments
22
Media
Graphite pencil
Time Taken
30 minutes
Reference
none