Skaters, Slayers, and Scuzme
Skaters, Slayers, and Scuzme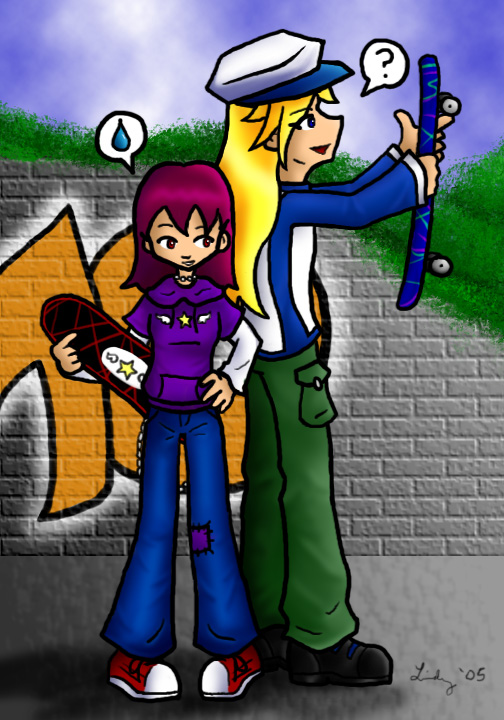 Description
Ack! I finished this last week, but I've been too lazy to get my laptop online. Anyway, this is my half of an art trade with Scuzme. She wanted a picture of herself and Gourry from Slayers as skateboarders. I have to confess that I know nothing of skaters or skater culture so I... drew something random! I figured Scuzme's clothes were already skater-ish, and as for Gourry... Well, I've been wanting to draw a hat like that for ages. I figured he wouldn't know what to do with a skateboard anyway. Hence the lack of dynamic poses! XD<br />
<br />
I usually hate doing backgrounds, but this one was actually fun. I enjoyed drawing the 'graffiti', even if there's no meaning behind it (I don't know what it's supposed to spell).<br />
<br />
Anywho, that's about all I have to say about the matter. Drawn and colored in Photoshop over the course of... about a week. Because I'm slow like that.
General Info
Comments
3
Media
Unspecified
Time Taken
Reference