Persona 4: SAY CHEESE
Persona 4: SAY CHEESE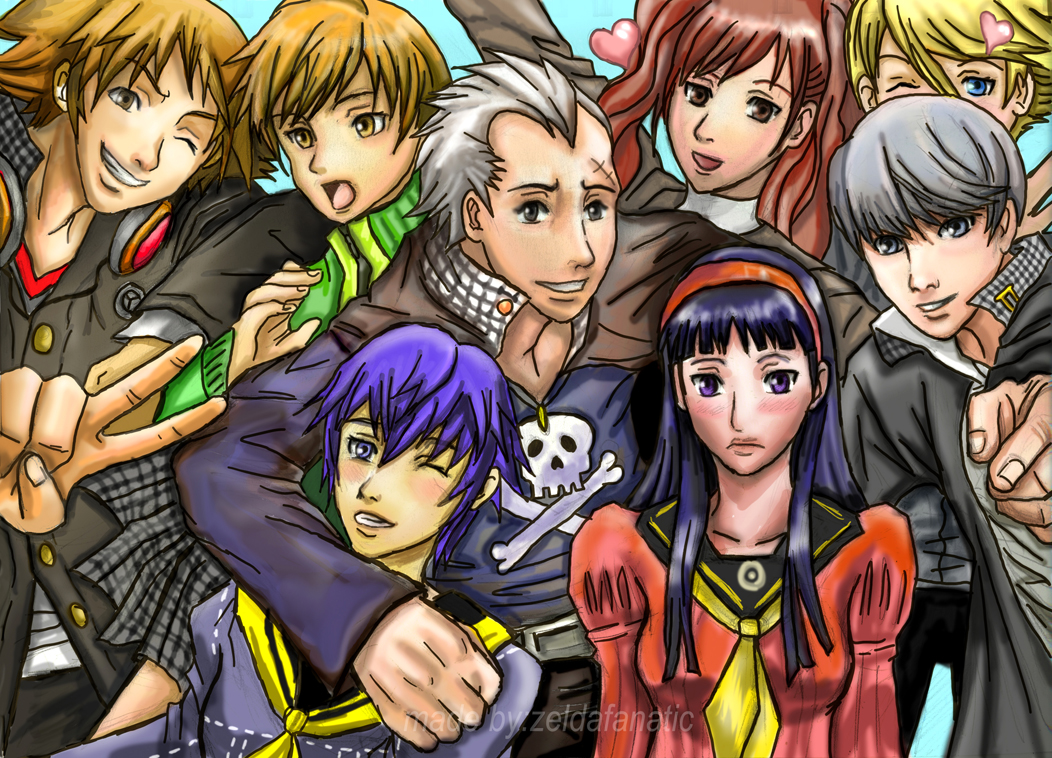 Description
a little chaotic picture take huh?? XD
A LITTLE SPOILOR~~~(naoto and teddie wasnt revealed until later of the game~)
PERSONA 4 fanart! @W@
FOR THOSE WHO HAVENT PLAYED IT GO PLAY IT!!!
(for those who dont know it its an RPG game, solving a mystery case of murders with a help
of your friends after you save them. Its a pretty good storyline and very entertaining, makes you
laugh @W@)
From left to right characters are:::
Yosuke-->Chie-->Naoto-->Kanji--->Yukiko-->Rise--->Teddie(human form)---> and Souji
my favorite characters are yosuke and souji ( i like them as a yaoi pairing too muhahaha)
my atmospheric perspective, whatever you call it. Seems like yosuke is sooo biig than the others but it looks fine in the outline arghhhh >.< (but kanji is the tallest one,
well he is actually slouching)
why is their school outfits sooo dark?!~ lol makes the pic so dark XD
i hope the b/g helped them stand out a little.
its funny how, they become friends from different backgrounds/personalities.
like yosuke the talkative one
chie the karate kid
Naoto the genius
Kanji the
bad@$$
yukiko the shy one
rise the center of attraction
souji the calm one (depending on your answers lol)
teddie the confused/happy guy XD
theres so many couples i like here in P4 like ChieXYosuke, KanjiXNaoto, RiseXSouji, and TeddieXYukiko
Dialogue::::
Yosuke *pushes Chie* "HEHE CHEESE!~"
Chie "H-Hey--watch it!"
Naoto *slight smile* @///@
Kanji " Say cheese everyone~" in head (im not used to this, please hurry up)
Yukiko in head (huh? what?) ?????
Rise "Hey wait for me! I want to be in it too~" <3
Souji "Everyone look over here. Yukiko look-- say cheese~"
Teddie "I'm by Sensei! Cheese? CHEEEZZ! haha" <3 *tries to give a hand wave*
hard to fit everyone in there @
___@~~~~
poor teddie haha
TIME TAKEN:: 10+ HOURS
REFERENCE USED::: Bleach volume one official art in the back i think lol
outline:::
http://img.photobucket.com/albums/v54/lozfan/persona41outline2small.jpg
now to lend it to my friend to burrow so you can get into it too muhahahahahahahaha!
~~~THERE ARE THREE ENDINGS SO BEWARE NEW PLAYERS!!!!!!!~~~
General Info
| | | | |
| --- | --- | --- | --- |
| Ratings | | Comments | 10 |
| Category | Games » - by Genre » - RPG/Adventure Games | Media | Other digital art |
| Date Submitted | | Time Taken | A/N |
| Views | 2516 | Reference | A/N |
| Favorites... | 2 | Keywords | Persona, 4, P4, Persona4, group, picture, pic, Yosuke, Chie, Naoto, Kanji, Yukiko, Rise |
| Vote Score | 3 | License | Berne Convention |