nd prize request Prince Ralis
nd prize request Prince Ralis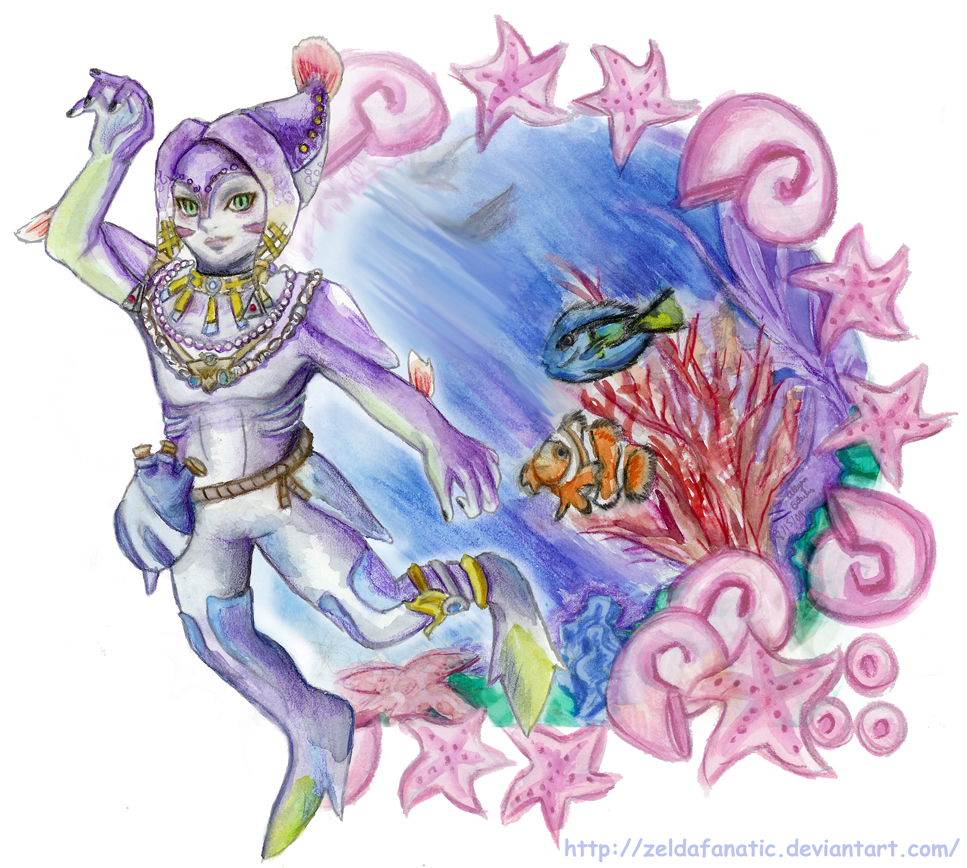 Description
REQUEST FOR 2nd PRIZE WINNER OF OUR CONTEST!!!
CONGRATS :iconmuertecita:
request: Prince Ralis in watercolor
(i added border and small b/g as an idea for small bg)
HOPE YOU LIKE! IT WAS CHALLENGING BUT FUN!~
first of all, today was a loong day~ had a garage sale today and boy was it tiring. although i had the chance to multitask and work on this request while i was outside lol. im glad i got it finished.
It's been a long time since i did some traditional work. I don't use watercolor very often so excuse my noob watercoloring >.< im only used to colored pencils but im getting use to watercolor. :) Also, its been long years that i ever drew a Zora. XB so i knew this would be an interesting request :D
I was lucky that i had left over poster watercolor paper lol. I had to cut them to size to make them fit to the scanner. i had to work small, i needed like a small brush or a magnifying glass~~ MY EYES! LOL XD it was challenging to do his jewerly @_@ Just a note, this picture is made from 3 different pics fused into one XD~~ I think my scanner killed Prince Ralis T.T i think its better in person DB and the bg im not really satisfied. DB In my sketch of prince ralis, his eyes look more sharp and mature but when i colored it or outlined it it turned out girly eyes DB XD
i never noticed how complex Ralis is until i drew him XDDD hes sooo cuuuuuteee though~~~ surprising on how dramatically Zoras changes in Zelda games. I wasnt really fond of Zoras (maybe cuz of Ruto LOL) but now i do XD. If they made a sequel of TP it will be kool to see grown up Prince Ralis and Link teaming up XD I think Ralis would be hot when he gets older XD. ahem~ anyway, they are cute in Zelda TP but i think if you saw them in real life i would SPAZZ @_X their eyes are scary ...what happened to the beady eyes in OOT? lol
by the way.... lets see if you guys notice... what movie am i hinting in here? XDDD <333333 </b>

Note: i used watercolor pencils to define edges and adjusted in PS to fuse layers and lighting adjustments.
Time taken: 2-4 hrs to color ralis
bg 2-4 hrs APPROX TOTAL: 8hrs
Tools: some PS, watercolor, and watercolor pencils
final sketch: http://img.photobucket.com/albums/v54/lozfan/prineralisoutline.jpg
color of ralis with no adjustments: http://img.photobucket.com/albums/v54/lozfan/princeraliscolored.jpg
outside border: http://img.photobucket.com/albums/v54/lozfan/border.jpg
mini bg: http://img.photobucket.com/albums/v54/lozfan/bg.jpg
references from google images
General Info
| | | | |
| --- | --- | --- | --- |
| Ratings | | Comments | 3 |
| Category | Games » - by Publisher » Nintendo » Legend of Zelda series » - Twilight Princess | Media | Other digital art |
| Date Submitted | | Time Taken | an |
| Views | 1058 | Reference | an |
| Favorites... | 2 | Keywords | The, Legend, of, Zelda, Zora, TP, Twilight, Princess, Prince, Ralis, PrinceRalis, fish |
| Vote Score | 1 | License | Berne Convention |