Nei, the beautiful theif.
Nei, the beautiful theif.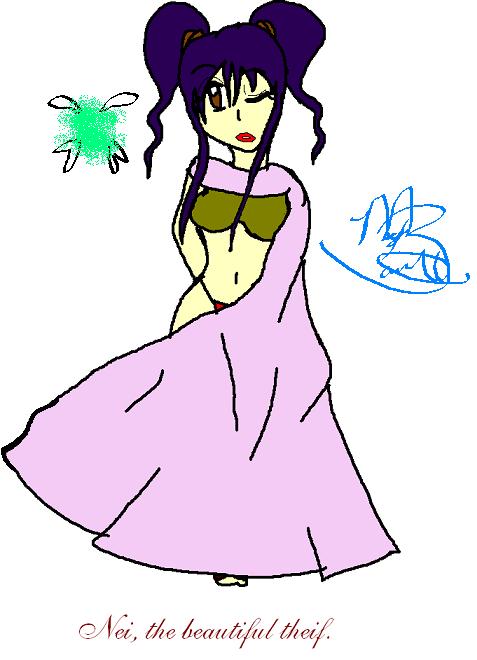 Description
This is Nei. She is yet ANOTHER charter in Sketch and I's story. She falls Bouen, that dog gets all the luck. Yesh she is a theif, dun let her looks fool you, and no she doesn't run around in a thong she has pimped out kaprie-o-licious Mc hammer pants. >B That is her pixie that follwes her and they think she is nuts because they can't see her when only she can. FYI her Pixie is a boy. Now time fo Nei bio-licious, bio >B<br />
<br />
Name: Nei<br />
Age: 22<br />
ht: 5'8<br />
wt: -slap- never as a lady her weight<br />
stats: avabile but trying to win over Bouen<br />
strenghts: working at night, being quite when she needs to getting what she wants and good at walking<br />
weaknesses: seeing people she loves get hurt, never shuts up somtimes, easily falls in love with people, when she is mistaken for a kid she gets pissed...badly<br />
love intrest: Bouen and Hea<br />
loves more: Bouen..given..<br />
family status: Rich and lives in a big @$$ house father mother and 2 brothers that are desprate to find her because she ran away<br />
more or less famous quote: "-winks and thumbs up- I'll be back as sure as the sun will rise in the east." (spoiler: she doesn't come back...that's why it is her famous quote.) <br />
<br />
Review please?
General Info
Comments
2
Media
Unspecified
Time Taken
Reference