I'm telling on yoouuuu.
I'm telling on yoouuuu.
I'm telling on yoouuuu.
by
Rulika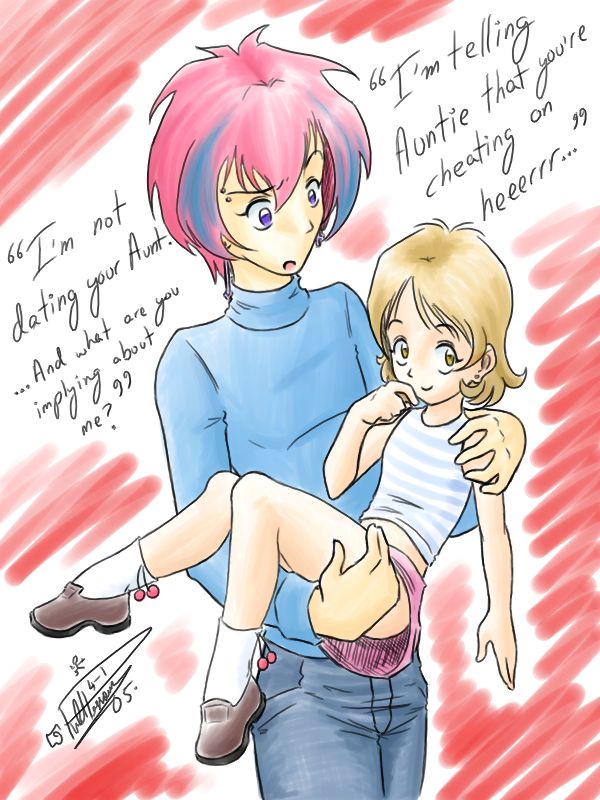 Description
Before anyone flames me for potential non-canoning, read the desc :O!

Anyone who has been following my srt for a while knows my Gravi OC, Inara. She was created, hated, killed BY ME, revived, and thrown off to the side as a potential supporting character with no interest in Shuichi.

Wasn't that a great story?

And who's this, you ask?

Remember the random niece I created for Inara? Well, I seem to be suddenly interested in the (PLATONIC, I assure you) relationship between her and Shuichi. Personally, I think they are _adorable_ together.

Now, on to explaining this oddity. Believe me, Isabella is not hinting anything sexual. At all. She just happens to be quite a vulgar eight-year-old. I haven't a clue why Shuichi is holding her, either. It's what my muses told me to draw :D

No, he is not "dating" Inara, nor does he have any desire to. Soooooooo, save your breath - he's still with Eiri and very happy with him.

Oh, right, his hair? It's from the storyline I created, but never got around to working on. Yes, I took the hair colors from Angrybee's story, Pianissimo Butterfly. I asked/pestered, and she said sure.

WHEW. That was long. Sorry! Hope you like this piece nonetheless :D :D :D

Shuichi's © Murakami-sensei, and Isabella's © moi.
General Info
Comments
4
Media
Unspecified
Time Taken
Reference