Cosplay 1: Disadvantages
Cosplay 1: Disadvantages
Cosplay 1: Disadvantages
by
Rweon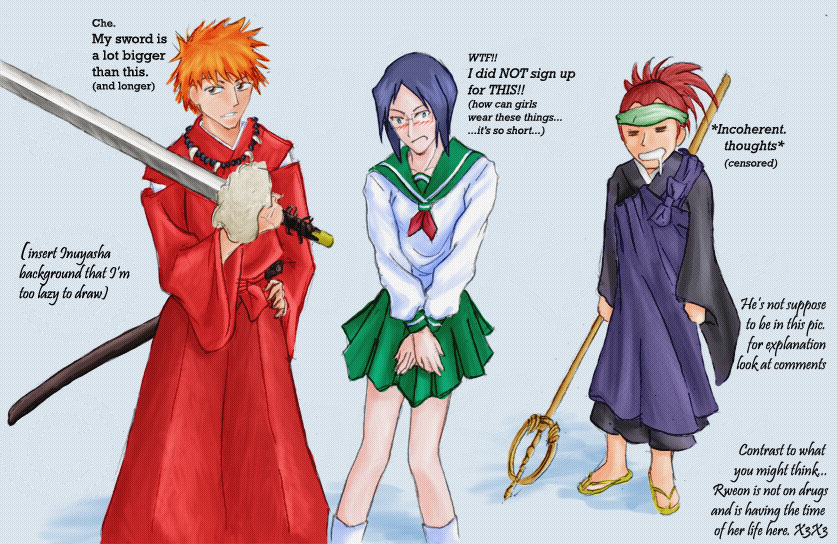 Description
....I suppose I own you people an explanation? XD<br />
<br />
so...First of all.....It's cosplay...but not cosplay at the same time. The situation I imagined this for is that Bleach characters and Inuyasha characters swap for one day. So it's not cosplay because powers along with clothes are exchanged with along the swap. So imagine all the characters are actors, and the actors switched movies. yes. That makes more sense.<br />
<br />
Anyways. The reason why I said that Renji doesn't belong in this picture is because he just doesn't. I drew the sketch of Renji months ago with that face.. and I never had the chance to post it. So after I finished drawing this picture..I thought...hey..let's get out that sketch and make Renji into Miroku.<br />
<br />
In reality, the person that I imagined who would be Miroku is actually Orihime. No..not because that would be totally ironic..XD but because the way I did the character swap is by abilities. So. Ichigo uses about the same size sword as Inuyasha so they swap. No.. I don't know if Ichigo's sword is actually bigger than Inuyasha's. (someone stop me from making more jokes about the size of Ichigo's sword....every time I draw him...it pops up...it's scary) So, Ishida, the archer, switches with Kagome, who has the same abilities. (and also...because......it's funny.......)<br />
<br />
And the reason why Orihime is Miroku and not Renji, is because Miroku and Orihime both use shield techniques... While, Chad would be Sango...I've seen him toss that rock, it's like Sango tossing her boomerang thingie which I forgot the name for. Don't try to imagine it....you're going to break your brain.<br />
<br />
SO that's my brilliant explanation. .......half of you probably think I'm on drugs right now.......hehe..
General Info
Comments
4
Media
Unspecified
Time Taken
Reference