Transformers OC: Silent Rage
Transformers OC: Silent Rage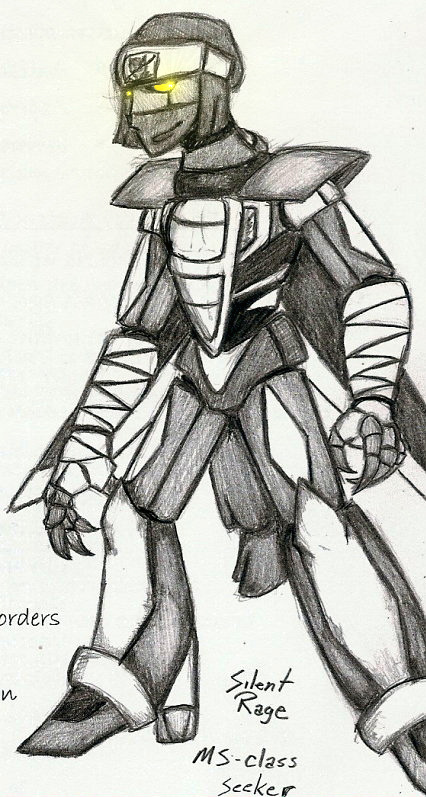 Description
First ever Transformers related fanart from me, and it's an OC. Doodled it during class at the edge of my notes.

This is Silent Rage, an MS-Class "Mini" Seeker. He's only about 12 feet tall in robot mode and 15 feet lengthwise while in jet mode. He transforms into a DW-20 Stealth Ninja (one of several planes built and named by himself) and can reach speeds up to Mach 3.0. He can render himself invisible (similar to Mirage) and his signal dampeners make him virtually undetectable until it's too late. He was sparked as an Autobot and even served as one of their snipers (under designation Headshot) when he was old enough, but somehow he later ended up on the side of the Decepticons.

As an Autobot, he was a huge pacifist and even found ways to snipe other folks (mostly in the head) without killing them, but time as a Decepticon has skewered those views. He will kill if he deems it a necessity, for revenge, if he is threatened or harmed first, or if he's in berserker rage mode. He's not beyond cannibalism either and savors every kill that he makes to the point of euphoria.

As of now, he, along with his wing mates, are considered rogue Decepticons and don't carry out any orders given by the main faction. He only answers to his wing mates and one Autobot in particular.

He seems to be a big fan of anime and video games, is a junk food junkie, loves to prank others, can be a bit of a smartass, has bouts of extreme laziness, and considers himself the king of DDR.

He's also secretly crushin' on his commander.

Wing mates include: Nellitron (commander), Black Viper (SIC), Ambroid, Flash Flood, and Diamond Dust. All are due to appear in a fic I hope to start working on.

Transformers (c) Hasbro/Takara.

All OCs and original ideas (c) mine.
General Info
Comments
0
Media
Graphite pencil
Time Taken
who knows?
Reference
none