Dark 03 Male
Dark 03 Male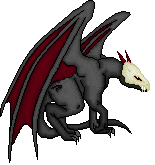 Description
Adult Male Darkness Dragon

These dragons are known to be even-tempered, gentle even, as long as no light is present. The dragon will become violent and unapproachable in any light, save starlight. Handlers learn to keep these dragons near deep caves to allow them to avoid exposure to sunlight.

Line Art copyright to Canna
Pixel Art copyright to Eli

All Rights Reserved
Do not re-post, re-color, or in any way alter this image.