Conscince
Conscince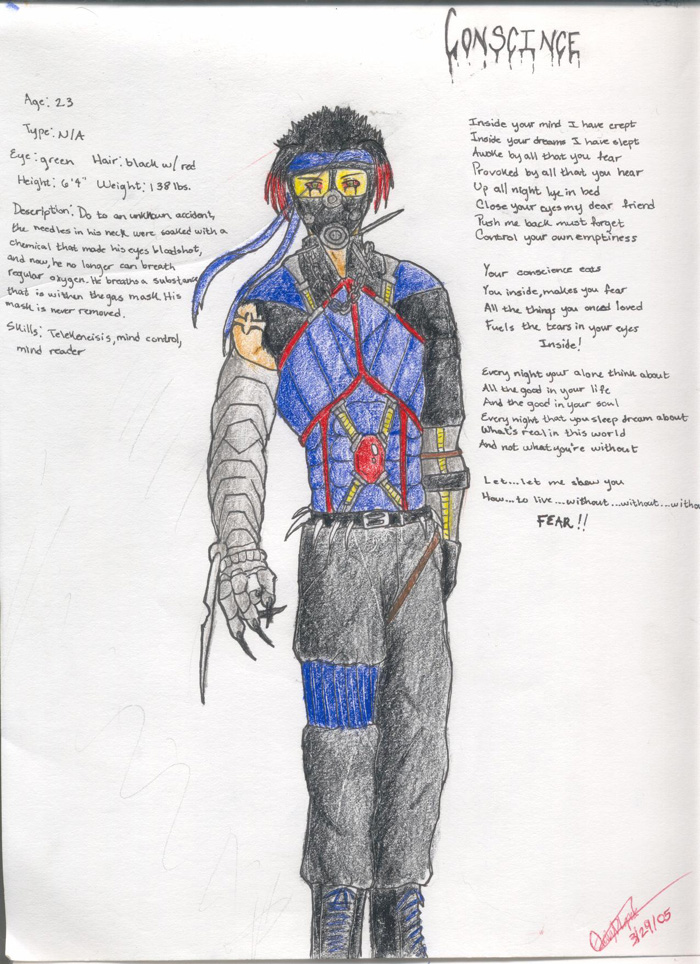 Description
This is Conscince. He was inspired by a rp I was doing. He's awesome. I give you 10 reasons why.<br />
1. HIS NAME IS SPELLED WRONG!!!<br />
2. He wears a mask. And not just a regular mask ladies and gentlemen, but a GAS mask.<br />
3. His eyes are bloodshot. Scary, but I like scary men....sometimes.<br />
4. He has a spider tatto. Spiders rock.<br />
5. He can make people his puppets.<br />
6. He can throw a tree at you without picking it up.<br />
7. His right arm is a metal reptile arm. What's not to like about that?<br />
8. His belt is spikey.<br />
9. He has combat boots with BLUE shoelaces.<br />
10. He's a bad guy. Bad guy's rock. Hard.<br />
<br />
He is also Bob, or, the guy that tells me to do bad things in my head. But you are not suppose to know that, he didn't want me to tell. But it's a little to late for that...For all of ya who know me well, you should know I blame everything bad I do on Bob. Bob told me to draw him. It's all his fault. There's a line across his face. That's not suppose to be there. That's Bob's fault too. He made the scanner do it. <br />
<br />
Information about him is on the right. His theme song is on the left =) It's called "Conscience" by Dishevel. <br />
<br />
WEll, hope you like Conscince!
General Info
Comments
0
Media
Unspecified
Time Taken
Reference