Secondary OC: Mimi the Crow
Secondary OC: Mimi the Crow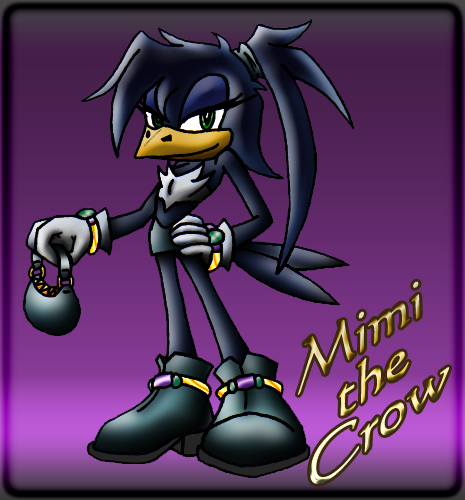 Description
I actually made this a long time ago, but I never submitted it. Too Lazy I guess. Anyhoo, this is a secondary OC of mine named Mimi the crow.
I mainly used her for RP's with my friend :devarkus0:.

She is the spoiled daughter of the head crow of her home community, Lord Nero. Being the community lord's daughter, she is rich, haughty, and very self centered and selfish...and on top of that, she's a lawyer. :ohnoes:

She started out as a past betrothed bride to my character Magnus, but later that engagement was dissolved after Magnus and his friends in Team Eclipse convinced Lord Nero that the marriage would be unfit.
Later on, Mimi gets involved with Talon the Raven (She likes the Bad Boys!) and their relationship took off. After some leagal issues concerning her new boyfriend was cleared up, Mimi changed from being the selfish brat to a more selfless and caring bird...at least to Talon anyways.

Anyhoo, this is Mimi the Crow! Ta-DA!
General Info
Comments
2
Media
Digital drawing or painting
Time Taken
Reference