Forbidden Kiss
Forbidden Kiss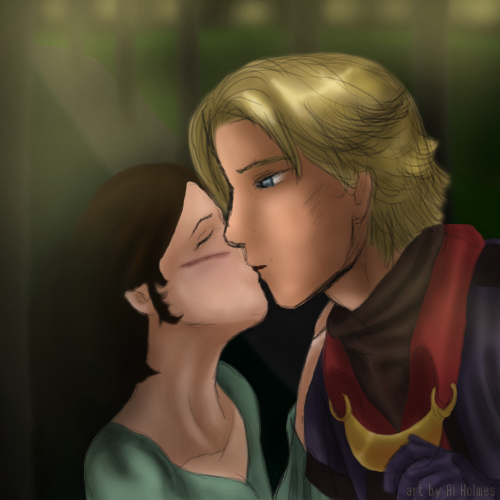 Description
...FEBRUARY 1ST, 2009...
The night was dark, and silent, with only the lumination from the streetlamps lighting the long road ahead. A young girl from Japan, stood looking at the older Frenchman before her.

Sha-mitsu had seen this man before in battle against her master, Yoshi-san; and followed him out into the night, where he seemed to be suspicious, and almost hostile, as he turned to face her.

The man spoke only a few sharp words, which she did not understand; surprising the girl who was certain that they had met before.

'Is he not the one...' She thought to herself, placing a finger gently against her scar, as he advanced towards her; cold blue eyes piercing into her sad brown ones.

The man peered over her, leaning forward, as he demanded her to answer; what was she thinking, by following him, not realising that she did not understand him.

As his eyes came to rest upon her kimono, he realised she must have been one of the followers of the masked warrior he had faced earlier.

His mouth barely opened to speak again, when her soft small mouth brushed against his; and his eyes widened in surprise, as he pulled back, to stare at her, stunned at the nerve of her actions.

The girl from Japan spoke in her native tongue, feeling as through she were shrinking, before his towering figure; whereas, the Frenchman stood there, motionless.

"...I'm sorry... I thought that you were..." Her voice softened to an almost silent whisper. "...somebody else."


...

This is a... cute kiss... that I drew yesterday... namely to pass time, until The Legend of the Seeker ( Darken Rahl! ) came on.

This is my character, Sha-mitsu, kissing Raphael Sorel... the reason for the title is because... well, Sha-mitsu is apart of the Manji Clan, and I'm sure Yoshimitsu would not approve of her kissing a French nobleman.

The small scene I wrote above, is just for the artwork... and because I felt like writing; plus, something that my brothers, and friend, said, made me think of this story idea (I'm not really sure I'll really write it though... maybe only one-shots... not really enthuasiastic about fanfiction)...

Sha-mitsu is confusing Raphael with another man who had claimed to love her, and was also an older man... that's bad news for a young girl, argh...

...although, of course, the real reason for drawing the picture, is because of my crush on Raphael... gosh, I bad boys.

...oh yeah, and it's taking a big risk putting it up here, since I know there are some who would probably like to rip my throat out, either out of jealousy, or because they're too bored to have a real life.

Either way, my brothers, and friend, backed me up when I was wondering whether to post this on dA.

...and I'm going to seriously get to work on my art trades, and requests, later - I promise!

~Secret-x-Link

Sha-mitsu, and story © me / DarthPhoenix17.

Raphael Sorel, Yoshimitsu, and Soul Calibur © Namco.
General Info
Comments
0
Media
Digital drawing or painting
Time Taken
Reference