Kenta Pegasus
Kenta Pegasus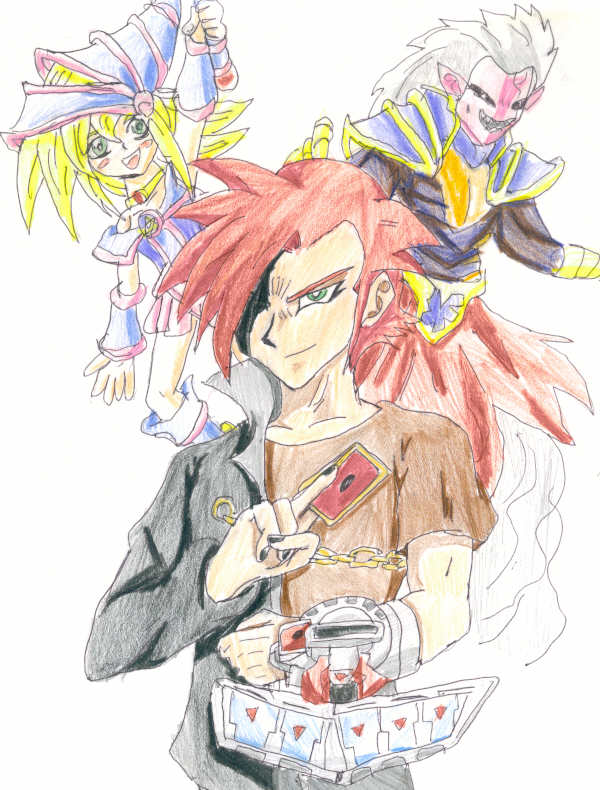 Description
Okay, I'm not really a huge fan of Yu-Gi-Oh as maybe some of y'all are, so I didn't really want to put this up. However, my brother insisted that I ought to put up at least my original character for the show, seeing as how he's, "so cool."

This is my character:Kenta Pegasus. Kenta is Maximillion Pegasus's nephew. Kenta learned all about duel monsters from Pegasus, and he was even given some special cards to put in his deck(hey, he is Pegasus's nephew,afterall). However, Kenta didn't participate in Pegasus's tournament.

Kenta returned after the tournament was over to find his dear uncle terribly sick. He was told that someone had come and attacked Pegasus after his loss to Yugi.Kenta also knew that the item his uncle had used to read minds was gone.Natural instinct and fury told him that Yugi had done it. So now Kenta is off to get payback.

Kenta uses a wide variety of monster, magic, and trap cards alike. He even uses Pegasus's Toon World card often.

Okay, as for the specific monsters he uses, he has a LOT of semi-strong monsters, about 1400 attack points or less, and he'll often use all of the toon world monsters that his uncle had, and his favorite card(and mine...) is The Chaos Necromancer. For those of you who don't know, that's the creature on the right. It's effect is that it's attack points will go up depending on how many monsters are in the graveyard X 300 points.
Tell me what you think of him.
General Info
Comments
2
Media
Unspecified
Time Taken
Reference