Sketch concept thing: Pain
Sketch concept thing: Pain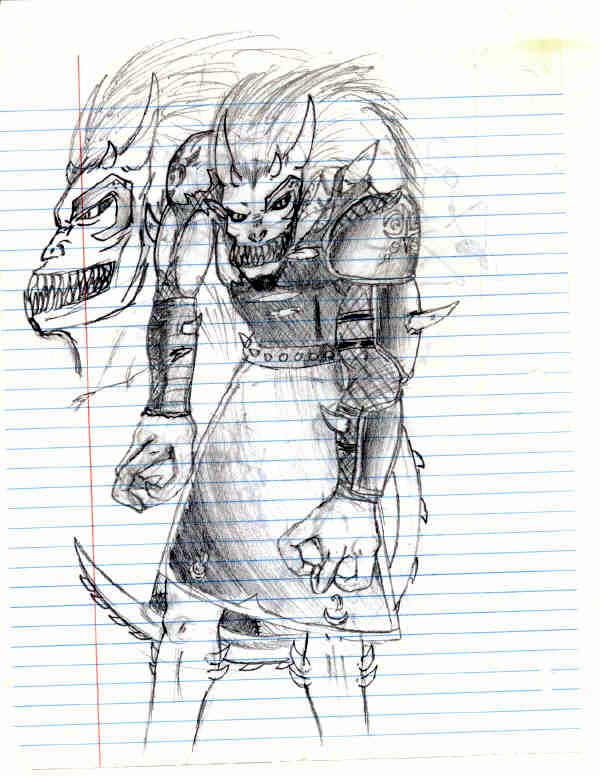 Description
Alright, so after nearly a year of bad concepts and many, MANY imperfections, I finally got a look for one of the few characters for Outlaw that I haven't put up yet. This one here is Pain. Pain was once a corrupt and wicked performer who was sent to Hell once he died. After many years of torment from the Dark Inferno, his soul mutated, and turned into the form above.

Eventually, Pain wanders along the Underworld until he comes across a demonic-looking girl by the name of Xendra. Xendra senses the evil in him and asks for Pain to join her in her domination of the Mortal Plane. Pain scoffs at her idea at first, but is eventually forced into joining them upon the sight of Xendra's 2 powerful allies: the menacing Shadow and the deranged Agony. Pain accepts the offer, and is taken to the Mortal Plane with them.

When we'd come into his part on the series, we find that Pain is performing again. This time, however, he's the frontman of a popular Death Metal band called, "Anethema". Pain takes on a semi-human form, and claims to fans that he is in costume.

This guy took a LONG time to draw, considering that I was trying to do an original design. No knockoffs. Oh, and it's on lined paper cuz I couldn't decide on his color scheme yet. The design finally came to me in a dream, when I saw a demon turn his face to me . No joke.....anyway, comments and suggestions are always appreciated.
General Info
Comments
3
Media
Graphite pencil
Time Taken
45 minutes
Reference
weird demon dream