Practice: Shadow
Practice: Shadow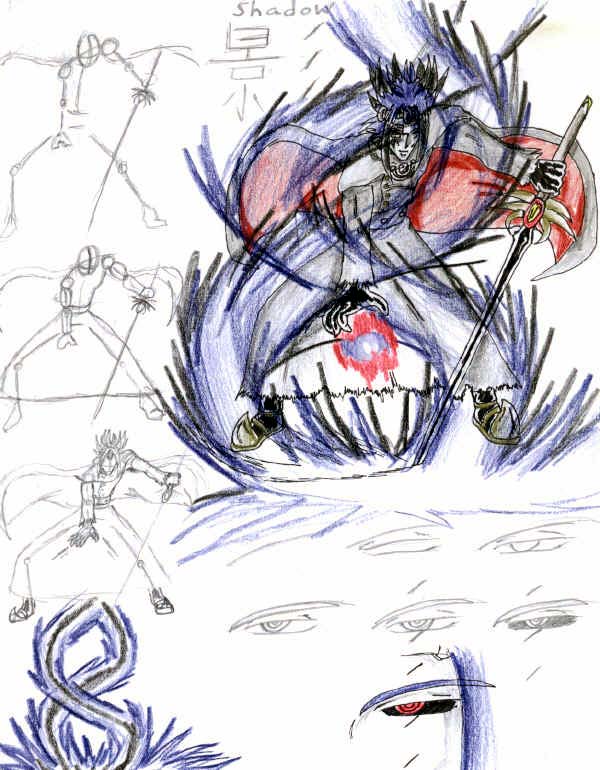 Description
This here's nothing too special. Basically practice on Shadow's character design. The left shows each step of what I do for a character. I'm pretty sure a lot of you guys do this, but I keep finding out that friends of mine who draw anime haven't even thought of using stick figures! I also finally drew Shadow's feet and tried to draw his aura.

Due to the controller on Shadow's head, his immense power's repressed, and he's able to control it. In my series, one would know a character is under complete control of their power if their aura can move in such a way as up above. Also, Shadow's in so much control that he can maintain the "Soul's eye" technique almost all the time. That explains why his eyes look a little different compared to Ryosuke's.

Oh, one more thing: I drew the kanji for Shadow at the time of the page. This is the new pattern on Shadow's face. Now he has one with some meanings!

I also did this to see what y'all thought of Shadow's complete design. I wanna design another outfit for him, so I want y'all to tell me stuff that I could add, get rid of, or change to make a second outfit. If you got an idea, let me know!
General Info
Comments
2
Media
Colored Pencil / Crayon
Time Taken
1 hour
Reference
none