Happy Holidays: Jak Style
Happy Holidays: Jak Style
Happy Holidays: Jak Style
by
Shadow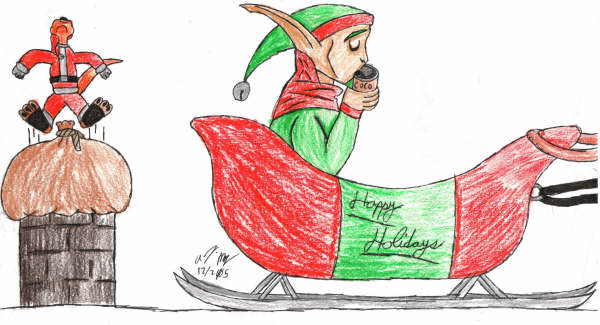 Description
Daxt thinks: *Get Down, Get Down, Get Down!*
Dax: Jak! A little help please?
Jak: Sorry Dax I cant.
Dax: But why? Your not doin' any thing?!
Jak: Yes i am. I'm drinking my Hot Cocoa.
Dax: What?! Why don't you go and put it down and help me?
Jak: Because if i put it down it'll get cold. And if i don't drink it, know one else will.
Dax: I'll drink it!
Jak:...
Dax: Jak! Are you lessoning to me?
Jak:...*plays the jingle bell melody in head*
Dax: JAK!

Happy Holdiays Everyone! Hope you injoy the pic.

Jak/Dax: Happy Holidays to all of you fans out there!
Dax: Can i please have some Hot Cocoa now?
Jak...No.
General Info
Comments
1
Media
Unspecified
Time Taken
Reference