Toadragon Raven of Shadows in dragon form
Toadragon Raven of Shadows in dragon form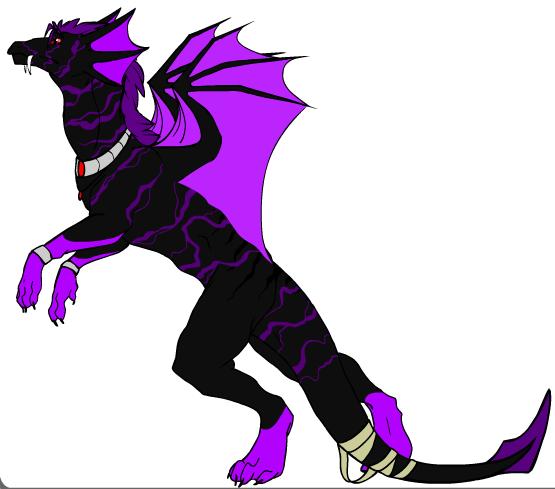 Description
This is The Dragon i made with the Dragon builder interactive game by BlackInk on deviantART:-http://browse.deviantart.com/flash/?qh=&section=&q=dragons#/d29jg60

Name: Toa Raven Drygan

Age: 18 years

Gender: Male

Race: Toadragon(Can transform into a human or anthro[armoured] form)

Siblin(s): Tailan his older brother(2 years older)[step-brother though they never found out till later on when Raven's father came to them and revealed it to him]

Special/Elemental Abilities: Able to tap into and control various types of shadows or form them himself and use them in attacks, defense or anyway he can think of using them as well as forming them into shapes, able to change between his human,toadragon(armoured anthro)and dragon form at will; able to see great distances; heightened sense of smell, sight, and sound, immune to cold, able to breathe fire in both toadragon and dragon form

Personality: Can seem quite gruff moody at first as he keeps his emotions and feelings to himself and can be suspicious of others at first but one you become his friend he will protect you with his life, has a temper at times. he hates being told he looks like his father but also if he's reminded thats he's a runt compared to other toadragons of his kind as normal toadragons are broad and muscled while he and his brother and their group of friends are more flexible, skinny and not as overly muscled as normal toardragons are but they are athleticly built as they train and stuff but compared to normal toadragons it's like comparing a body builder and a athlete to each other.

Quotes: "I am nothing like my father and never will be!"
"And you think i give a damn? please don't flatter yourself this is my life i do what i please thank you very much!"
"Weather forecast for tonight: dark"
"I will never apologize for who I am or what I believe in. Accept me or reject me. Your choice..."