Sid "Sloth" Pelekai
Sid "Sloth" Pelekai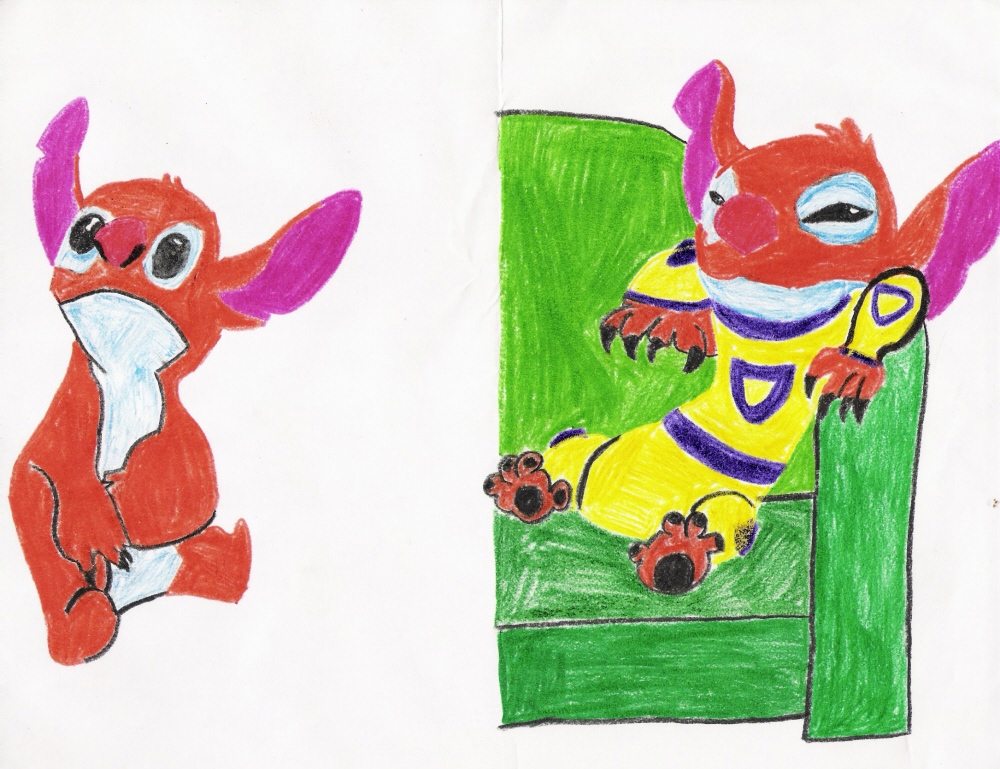 Description
Here is the second son of of Stitch & Angel, Sid "Sloth" Pelekai. I think I did this one exactly how he was suppose to be. I did this for a favor for my friend Womrtail96 on Fan Fiction. Well here's his profile.

Gendre:Male

Physical appearance:Stitch's physical structure. Has dark-orange un-groomed outer-fur, and his inner-fur (Underbelly) is a bluish-white. He is reasonably big and rather padded in body fat. He wears a yellow and purple jumpsuit.

Powers: Retractable body parts (arms, Antennas, back-quills), reasonable strength, reasonably sharp claws, spits ice blast, sharp-teeth, camouflage,

Bio: The Second oldest of Stitch's children. His official experiment number is 626.3. His middle name derrives from his lazy persona, which makes him very easily tired and bored. He is mostly seen laying on the couch, watching Television. However, this makes him rather weak, and is easily defeated. In Stitch Phantom's fic Rose of a Different Colour, Sid fell in love with Rose Darkfur, Shadeigo and Gatomontwo's daughter. He and Gatomontwo's love was also the very thing that stopped the beginning of the Trog-Digimon War, and after the Trogs and Digimon make peace, Sid and Rose coul then continue on with their love, without having to hid it from anyone. Although, not being one of the brightest and strongest of his siblings, Sid is very creative and has a nack for Biology and plants. Sid is also actually the only one of the Stitch Kids that is considered as a nice person.