Njeri the Witch-Fairy
Njeri the Witch-Fairy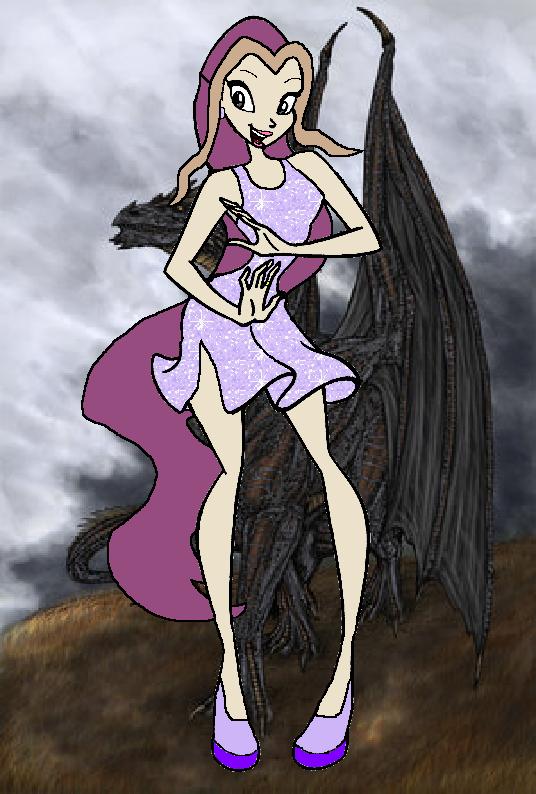 Description
Name: Njeri (n JEH ree)
Name Meaning: A warrior's daughter
Birthday: September 27 (same day as Baltor's creation)
Power: Dark Dragon Fire
Origin: Magix
Parents: Griffin & Baltor
Likes: Music, designing clothes, writing songs
Dislikes: The Trix, failing her mother
Dream: To find her father and turn him good
Personal history: Before Griffin turned good, Baltor asked her to marry him. The Ancient Witches knew about Griffin and Baltor's child before Griffin, and wanted to get rid off her be fore she found out. Even though Griffin survived, she tried to convince Baltor to turn good and that she was going to have a child. Baltor didn't believe her. Njeri grew up believed that her father was a great wizard and that he was dead. When Baltor gets out of the Omega Dimension, Griffin sends her to Sparx, and then brought her back, and told her the truth about Baltor. She attended Cloud Tower, but the only ones who knew she was Griffon's daughter were the Trix. They would take her dairy and tear out some designs and songs she wrote. She became a student at Alfea, and shares a dorm with Bloom, Stella, and Flora. She and Bloom have become the best of friends. The ring she wares is the one that Baltor proposed to Griffin with. She hopes to get her Enchantix and learns control her powers.
General Info
Comments
2
Media
Other drawing
Time Taken
Reference