Victoria the Horse Fairy
Victoria the Horse Fairy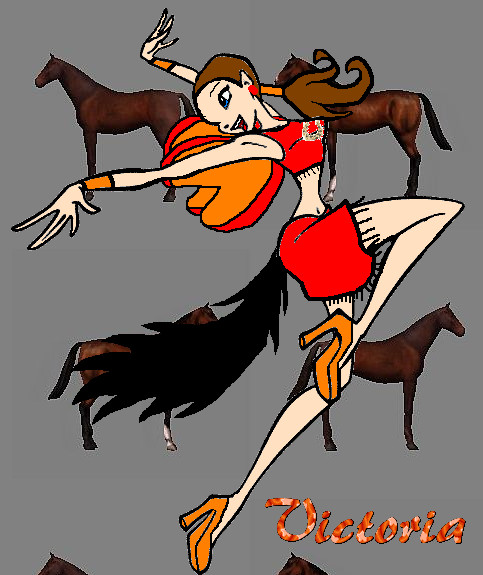 Description
Name: Victoria
Name Meaning: Victory
Nickname: Redneck Princess
Planet: Amarna-Thebes
Birthday: March 2
Star Sign: Pisces
Hair: Medium, Brunet
Eyes: Blue
Likes: Horse riding, country, classic rock, singing, drawing
Dislikes: Rap, people who dishonors her planet
Bonded Pixie: Sunny, pixie of warmth
Power: Horses
Boyfriend: Prince Tutankhamon (Tut) of Amarna-Thebes
Pet: Imhotep (horse)
Colors: Red & Orange
Enchantix: Saves Prince Tut
Personal History: Victoria is the horse fairy, and Flora's cousin. Her planet is Amarna-Thebes, which is based after ancient Egypt. Her friends Rhonda, Megan, and Georgia, talked her into coming to Alfea, along with her friends, Hope and Rhiana. Victoria works for the king and queen of her planet as a stable hand, so she can keep her horse, Imhotep, there.
General Info
Comments
1
Media
Other drawing
Time Taken
Reference