Err.... Woof? o_o;
Err.... Woof? o_o;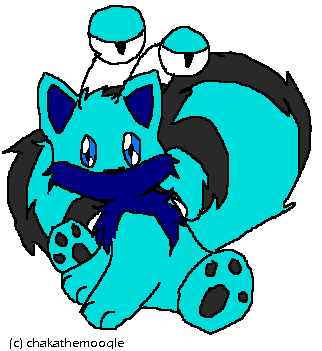 Description
Ha ha. nn Yes. This is my Lupe, Webbu. No idea what I should've called the picture, so that turned up. xD<br />
<br />
-ahem- Yes. nn Well, anyways, I haven't posted a picture here for a while, so maybe I should tell a bit about myself and my bizarre Neopet. xD<br />
<br />
I'm a recently-turned-fourteen-year-old who's obsessed with Anime, Final Fantasy, and Neopets. I enjoy drawing, and creating Pet Pages for my Neopets (peaking of which, feel free to visit Webbu's. I've just started it, but the layout and music's cool. nn It's here :
http://home.neopets.com/templates/homepage.phtml?pet_name=Webbu)<br
/>
<br />
Yes. Well, I've changed my style of art a bit, and I like it. nn; Ta ta for now.
General Info
Comments
2
Media
Unspecified
Time Taken
Reference