Grypheon
Grypheon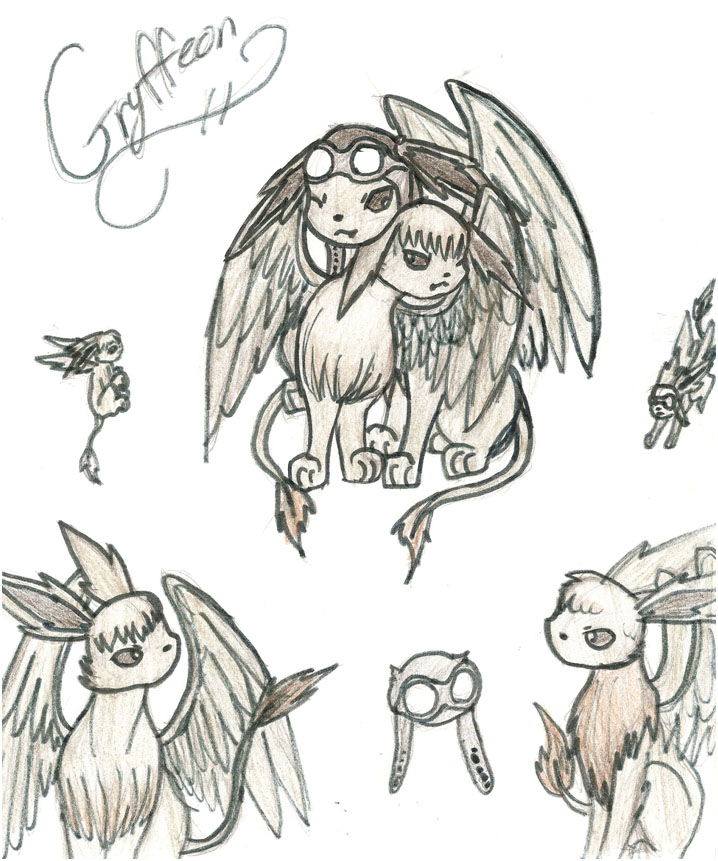 Description
Aren't they cute? Yes, I misspelled it in the picture.. It's supposed to be spelled Grypheon. This is my flying type Eevee evolution, Grypheon! Please do not steal!

They're modeled after a 1940's military pilot, or atleast the hat is anyways.
The male has the lion's mane, and larger feathers, and is usually most seen with the helmet.
The female has longer head and chest fur, but the chest fur isn't as extreme as the male's fur. Her feathers are also abit smaller. Thier young's fur tends to grow wingshaped as they grow with the Aviator's helmet.

Information:
Name: Grypheon

Attacks: Bite, Wing Attack, Sky Attack, Aeroblast, Mirror Move, Beat Up, Crunch, Radar (sends out an ultrasonic wave that locks onto the foe), Lullaby (females only. makes foe fall asleep). (Can learn various TMs. If you wish to use a Grypheon and are thinking about TM moves, ask me. I'll figure it out.)

Evolution Level: n/a

Evolution Form: Evolves from Eevee at Max Happiness, but must also be holding the Aviator's Helmet.

Location: High mountain forests and secluded areas throughout the regions. Lives in especially windy areas.

Type: Flying, Normal

Description: The first Grypheon was seen in the myths of the ancient world, but one wasn't made, until an Eevee was given an aviator helmet by it's owner, making it evolve. Before it evolves, Eevee's fur will grow wing shaped on the shoulder blades between the furry cuffs. Since they can live in very rugged locations, they tend to learn both flying and dark type moves. They are very proud pokemon, and will attack viciously if insulted.