Hakurei Shrine Sprite
Hakurei Shrine Sprite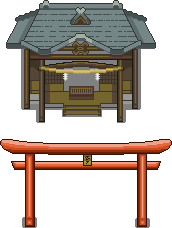 Description
Decided to try out my hand at spriting.

These are custom sprites of the Hakurei Shrine, made in Paint.

While the shrine is based off of the video, it WAS pixeled by hand. It's my work. Not the video's. There are differences.

The gate had no reference.

Please don't claim them as your own. I worked hard on these.