Yōko Rittonā
Yōko Rittonā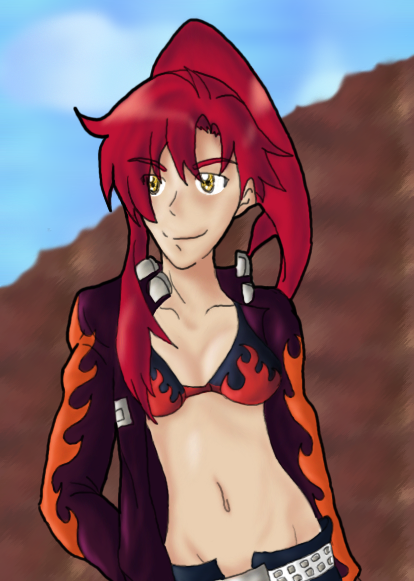 Description
Yōko Rittonā from Gurren Lagann.
I KNOW I SUCK AT DRAWING GIRLS OK! I understand that much. I draw guys a lot more often than girls, to me they are just easier but I really wanted to try my hand at drawing Yoko.
I had to look at a reference, I know it's cheating but i do it every so often (more than I would like to admit, especially for fanart).
Anyways, I also know the BG is crap but at least I used my own impressionist brushes as opposed to using ones I find on the internet (tho is prolly woulda looked better that way)

And I also know her face looks manish, once again i draw dudes XD

Yōko Rittonā and Gurren Lagann (c) Gainax
This particular pic and art (c) Me (QuincyAllain SilverGirl13)

Please don't use without my permission, especially since if you just ask me first I will tell you yes and only want to know and see where you are going to use it.
General Info
Comments
12
Media
Digital drawing or painting
Time Taken
A long time...
Reference
One of the TTGL DVD cases