DBB: Gareth
DBB: Gareth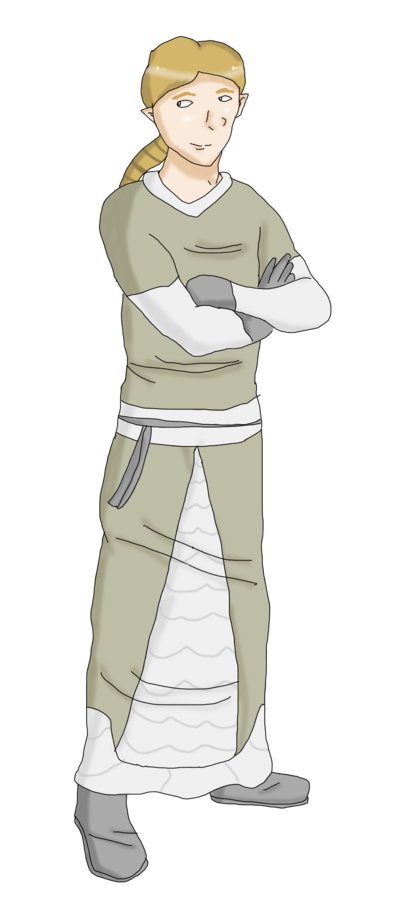 Description
Series: Divided by Blood
Name: Gareth 
Gender: Male
Story Role: Major antagonist 
Species: Causvian (Half-Elf)
Age: 108 (Physically 20's?)
Birthday: October 9
Height: 5'8"
Weapon: Magic staff. Uses wind and earth magic. 

Sexual orientation: Homosexual 
Personality:
Easygoing, Confident, Believes in justice, Quiet, Mature, Quick thinker 
Relationships:
Dylene: General
Ferris: Best friend and side troop
Main party: Enemies
Other traits:

- He is a pure mage, which counteracts Ferris being a full handed weapon user. This duo helps show off that causvians can do either, which makes Dylene's army unpredictable.
- He is a peacemaker at heart, but he also believes in justice and equality. Unlike Ferris, who's main motive is pure cold-blooded killing against the "fullbloods", His anger toward them comes from the injustice they caused causvians. He wants to make a world where causvians can live in peace alongside everyone else, but he also believes he has to remove the current generation to do so. 

- Like Ferris, he hates adult causadelians and sylvians, but unlike Ferris, he has no ill-feelings toward fullblooded children. He wants to try to manipulate the younger generation to go against the current belief system.
- Ferris and Dylene are his best friends. 
- He generally feels more comfortable befriending women. He had two younger sisters and lived with a single Mom, so he had more female influence in his life despite not being attracted to them.