rain_kitty's Opal Dragon
rain_kitty's Opal Dragon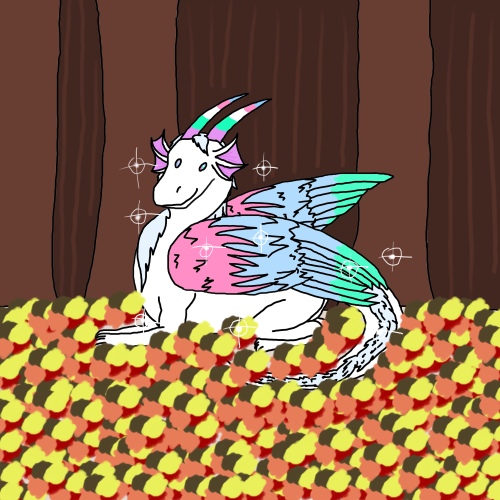 Description
Here she is, resting in the forest on a cushy pile o leaves.

A bit about Opal Dragons:
Opal dragons are naturally shy creatures and don't make themselves widely known. They usually live in caves year-round, feeding on roosting bats and only emerging on the two solstices to breed and bask in the sunlight. This, however, has not yet been proven, as Opal Dragons have developed a method of invisibility unknown to other creatures, believed to be initiated by the light shining of their reflective coats in some manner. This is supposedly why they tend to sparkle when in direct sunlight. A secondary theory that explains why they manage to stay invisible within the pitch blackness of caves as well, suggests that their skin produces a special oil that causes their fur to blend in with their surroundings somehow, this also causes the sparkles. If you wanted the truth though, you'd really have to ask an Opal Dragon for yourself, that is, if they are willing to disclose the secret.
General Info
Comments
14
Media
Digital drawing or painting
Time Taken
3-4 hours I think
Reference
A picture of a sleeping duck and previous drawings