The Shade Sisters
The Shade Sisters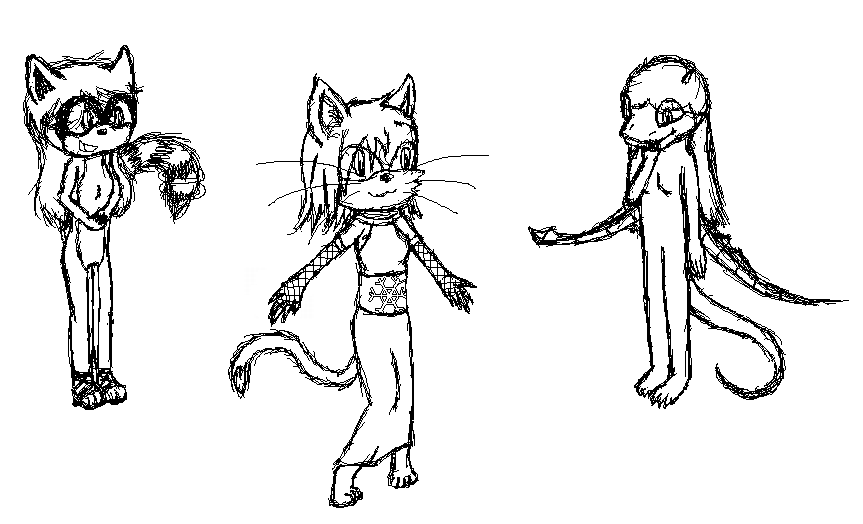 Description
I was bored so I drew up my new Sega OC's :). They're not sisters by blood, they were all adopted by the same family. They act like a cross between sisters and best friends. They couldn't care less about boys because they have each other. Normally, Crescent wouldn't be wearing clothes. In this picture, she's showing off what she looks like in her clothes (in a friendly way) to her sisters. Sandra is enthusiastically clapping and Onyx may be smothering a laugh...though it can be hard to tell with her. I messed up a little on Onyx's wings since I've never drawn wings drooping down before, but I imagine that as one way wings look on bipedal creatures. Her face was hard too...now I know why people don't use dragons for their OC's. I messed up a little on Sandra as well. Her tail is too fluffy, so the rings on it look tighter than they should be. They're supposed to be slack so she can toss them about. I hope she looks like a lemur and not a raccoon. Anyway...enjoy!

Bios, from left to right (keep in mind, the theme songs aren't completely exact):

Name: Sandra
Age: 18
Species: Ring Tailed Lemur
Hair color: Black
Fur/scale color: Normal
Outfit: Black high heels and transparent yellow tail rings.
Personality: Enthusiastic, encouraging, friendly, relentless, active.
Theme Song: I Love To Move It

Name: Crescent
Age: 15
Species: House Cat
Hair color: Hot pink, the same color as her fur.
Fur/scale color: Hot pink, tail tip is a lighter version of this. Markings are silver.
Outfit: Normally, nothing.
Personality: Hyper, social, insistent, naive, excitable (her and Sandra make quite the pair).
Theme Song: New Soul

Name: Onyx
Age: 17
Species: Shadow Dragon
Hair color: Currently orange, grows in black if she's unhappy for an extended period of time.
Fur/scale color: Black.
Outfit: Nothing.
Personality: Quiet, thoughtful, patient, independent, secretive.
Theme Song: Teardrop

As a group their theme song is Happy Together by The Turtles.
General Info
Comments
3
Media
MS Paint
Time Taken
A few hours
Reference
Various pics