Transformed Tanuki Siblings
Transformed Tanuki Siblings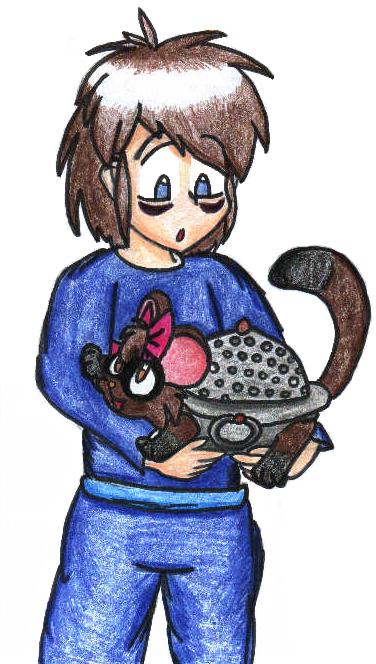 Description
Here are those two tanuki siblings from that story idea I have---you know, the one about the fox priest? What? You don't know about that one? Go looking through my gallery and you'll get the idea. <br />
<br />
Anyway, these are the two tanuki siblings-- older brother, Koburi and younger sister, Kita. There's a picture of them in their normal form in my gallery. Here, they have transformed themselves for some reason or other. Koburi has turned himself human. Those marks under his eyes aren't bags from lack of sleep; when a tanuki has been holding a transformation for a while and is starting to get tired, their 'tanuki mask' begins to show. Kita has turned herself into a traditional Japanese tea ceremony pot, a pun on a well-known tanuki story called Bunbuku Chagama. The story goes like this: <br />
<br />
There was a poor man out gathering wood when he came across a tanuki caught in a trap. Feeling sorry for the animal, he set it free. That night, the tanuki came to the man's house to repay him for his kindness. The tanuki turned itself into a tea ceremony pot and told the man to sell him for money. The man sold the tanuki tea pot to a priest, who took it home and put it over a fire. Unable to take the heat, the tanuki ran off in a half-transformed state. The tanuki returned to the poor man with another idea---the tanuki would turn into a tea kettle and dance on a tightrope in a sort of circus sideshow. The plan worked, and both became friends for the rest of their lives. <br />
<br />
Before meeting the main character of my story, Houshi Buri, these two would hide along a road waiting for travelers to pass by, then transform into monsters to steal the travelers' money. (That's how they made a living together since their parents died.) Because foxes and tanuki are both shapeshifting creatures, fox priest Buri saw through the illusion, and the two eventually joined him on his travels.
General Info
Comments
0
Media
Unspecified
Time Taken
Reference