D8
D8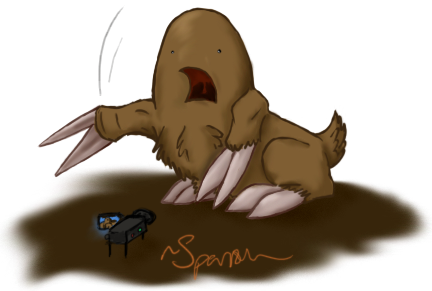 Description
Oh no, he found the hidden camera! I knew hiding it underground wasn't a good idea!
PokeBiologist FAIL
This is somewhat for a contest on Wajas. The prize I wasn't so interested in, but the subject inspired me (despite a severe lack of time), and so here this is. xD
Basically, someone wanted different potential forms for Diglett for a website of theirs. I was like, well, Diglett's the Mole Pokemon, so I imagine it's some sort of mole (although this picture is and always will be my favorite depiction of Diglitt ever:
http://kyoakiyamako.deviantart.com/art/Diglett-138053860
). Probably an extremely creepy mole like the <a href="http://www.life.umd.edu/classroom/bsci338m/OldOrder/Marsupialia/MarsupialMole.jpg">Marsupial Mole</a>, which is the creepiest animal ever.
The first time I saw a picture of that thing, it was that picture, in my Biology book in 9th grade. My life was never the same. DDD:
Anyways, so Diglett is this extremely creepy mole that is so utterly disturbing that Pokemon simply can't air it for fear of all their watchers keeling over dead.
This isn't a very good depiction of that, but considering the time I put into it (10-20 minutes), I think it's pretty good.
It's arms are all weird from its shoulders getting smashed against the dirt when it pops it's little head out. C8
Enjoy~
Diglett (c) Pokemon/Game Freak