"Missing You"
"Missing You"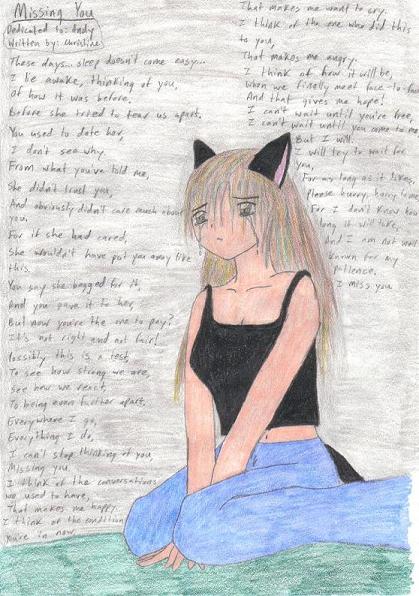 Description
I wrote this poem for Andy when he was in jail cuz I missed him so much. but he's out right now so it's not as bad. I decided to draw a pic to go with the poem. Since I had to make the pic much smaller you can't read the poem so this is what it says:
"Missing You
Dedicated to: Andy
Written by: Christine
These days...sleep doesn't come easy...
I lie awake, thinking of you,
Of how it was before,
Before she tried to tear us apart.
You used to date her,
I don't see why.
From what you've told me,
She didn't trust you,
And obviously didn't care much about you.
For if she had cared,
She wouldn't have put you away like this.
You say she begged for it,
And you gave it to her,
But now you're the one to pay?
It's not right and not fair!
Possibly this is a test,
To see how strong we are,
See how we react,
To being even further apart.
Everywhere I go,
Everything I do,
I can't stop thinking of you,
Missing you.
I think of the conversations we used to have,
That makes me happy.
I think of the condition you're in now,
That makes me want to cry.
I think of the one who did this to you,
That makes me angry.
I think of how it will be,
When we finally meet face-to-face,
And that give me hope!
I can't wait until you're free,
I can't wait until you come to me,
But I will.
I will try to wait for you,
For as long as it takes.
Please hurry, hurry to me,
For I don't know how long it will take,
And I'm not well known for my patience.
I miss you."
General Info
Comments
1
Media
Unspecified
Time Taken
Reference