My own warrior cat
My own warrior cat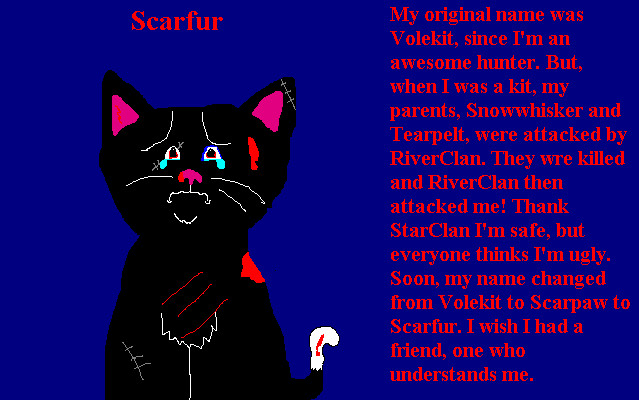 Description
This is my made up warrior cat. GlitterPelt's pic of his warrior cat inspired me a little. here's his story:


My cat's original name was Volefur, since he was an awesome hunter. He lived in ThunderClan with his parents, Tearpelt (his mom) and Snowwhisker (his dad). Leaf-bare came and prey was scarce. This was before the Twolegs started tearing up the forest, but prey hunting in leaf-bare was bad back then too.

Anyway, RiverClan was stealing prey from ThunderClan until it got out of hand. One day,when Voleur was a kit and named Volekit, there was snarling near the ThunderClan territory and all of the warriors in ThunderClan went to fight the RiverClan warriors. Tearpelt and Snowwhisker left Volekit in the nursery. Hours past and some of the warriors came back. But Volekit could not find his parents. He went to the battle ground and saw tons of dead cats. He called to them but no reply. He soon found them dead. He mewed to mourn for them, but some of the warriors from RiverClan were still there. They attacked at once.

The result of the fight is in the pic. He soon was claimed an apprentice, Volepaw, but he was still upset that he had no parents, unlike some of the other cats, to see him graduate. Volepaw got into a lot of fights with the other apprentices. They picked on him and called him names such as Ugly, Scarpaw, etc. Once he graduated to warrior, he had a fight with most of the other warriors/apprentices. His name was Volefur, but he told everyone to call him Scarfur. All of the other apprentices/warriors didn't like him and the parents of those cats were told to watch out. So, the parents of the cats didn't trust him either. They spread rumors about him. The most told one is that he and Tigerstar were cousins and that Scarfur was going to fulfill Tigerstar's destiny. Reedclaw, Scarfur's uncle who took care of him when he was parentless, tried to stand up for him but the next day, Reedclaw was dead from fighting his Clanmates trying to stand up for Scarfur. Scarfur left ThunderClan after he found his uncle dead. He was upset and felt like everything was his fault.

Now he is by himself and hunts on his own. But he wants a friend and feels pathetic.

Sad, ain't it?
General Info
Comments
9
Media
MS Paint
Time Taken
3 days
Reference