Hot Springs
Hot Springs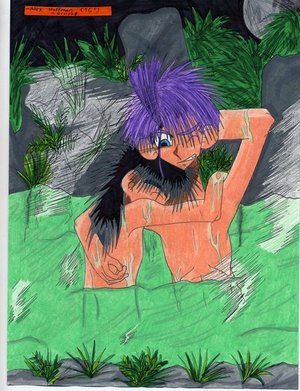 Description
I just did this...I THINK it was Saturday, maybe Friday...And currently it is my favorite TruTen pic I've ever done (previous to this it was Chibi Hug).<br />
<br />
Trunks and Goten in the Hot Springs. Goten, in typical Goten fashion, wants nothing more than to hang all over Trunks. Trunks is a little embarassed...<br />
Goten-Ah c'mon Trunks-kun there's no one here!<br />
Trunks-Hn, you're right Goten, it DOES look like we're alone...*grins sadistically*<br />
Goten-???<br />
-To Be Continued?-I HOPE!! When I finish my current stuff you'd better believe it'll be the next one-shot I write!!! *drools over the possibilities of two attractive seventeen-year-old boys alone in the hot springs*...GOD that would make a good Yaoi...<br />
<br />
The bushes and parts of the rocks are in marker, the rest in colored pencil (knowing me I would have probably done the water in marker too, but I didn't have the right shade of seafoam green that I though said "hot springs" so yeah).<br />
<br />
YOU WILL LOVE THIS PICTURE!!!!!!!!!
General Info
Comments
4
Media
Unspecified
Time Taken
Reference