Merry Christmas 2009
Merry Christmas 2009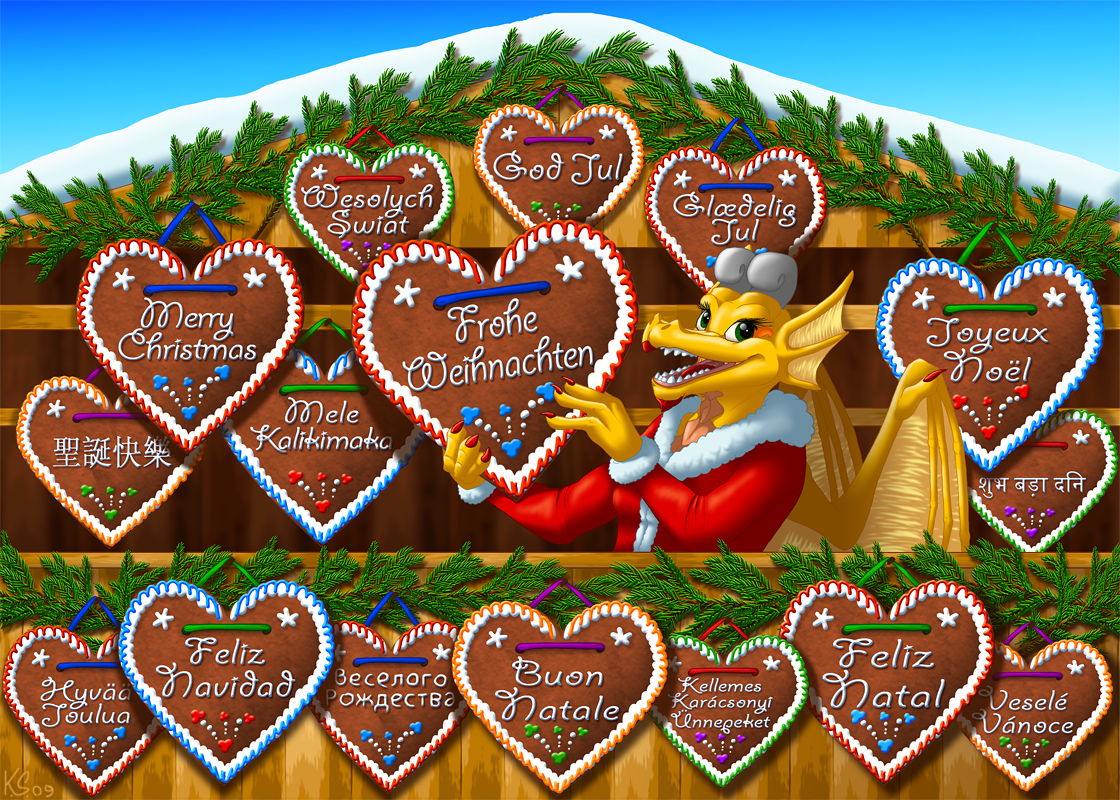 Description
MERRY CHRISTMAS! Hey! :D

This was the design for my cards this year, I always upload these on the 24th and nothing earlier. ;)
It's a big bunch of languages there, can you tell them all???

I hope you all have a great time and enjoy the FOOOODs!

I'm not feeling so well unfortunatelly. I have a heavy cough and my throat hurts badly. Fortunatelly I don't have any fever or headache it's just all in the neck. :XD:
I'm a bit annoyed because of that but I will not let this ruin my Christmas today. :)

Typically for Austria we will have the big gift giving today at evening already, the 24th is the most important day around Christmas for us here.
The tree wil be put up and decorated after breakfast also today (they don't get put up earlier, it is always on the 24th).
What else to say about Christmas in Austria? Ah! Yes, we don't have that fat guy, Santa. We have the Christmas Child who brings the gifts. :) It's an angel like lil girl with blonde hair and a white dress with gold ornaments, she is often shown with wings and a gloriole too. Much cooler than any Santa. *teehee* And it is freakin FEMALE! Yeah, we rule. :D

My picture shows a typical market stand of a "Christkindl Markt" (typical Christmas fair/market in Alpine regions) were Drakalette sells Gingerbread Hearts. :)

And have a HAPPY NEW YEAR also! :)

I will relax now a little, maybe this helps against my cough.
General Info
Comments
5
Media
Digital drawing or painting
Time Taken
-
Reference